Violation is a 2020 Canadian drama horror film directed and written by Madeleine Sims-Fewer and Dusty Mancinelli. It is the feature film debut of the two directors, who have collaborated on several short films displayed at film festivals worldwide. The film stars Madeleine Sims-Fewer, Anna Maguire, Jesse LaVercombe, Obi Abili, Jasmin Geljo, and Cynthia Ashperger. The film premiered at the 2020 Toronto International Film Festival. It had its US premiere at the 2021 Sundance Film Festival on February 1, 2021 in the Midnight section.
A troubled woman on the edge of divorce returns home to her younger sister after years apart. But when her sister and brother-in-law betray her trust, she embarks on a vicious crusade of revenge.
***SPOILER ALERT***
F: Well, shit. If there are movies that I would like to unwatch, this is one of those. I felt violated by this brutal movie. Yes, it's brutal. The murder scene is one of the heaviest and most realistic scenes I've seen on film. More visually shocking than the real stuff I've seen on gore websites. Why the need to make a movie like this? It gets to its point, I give you that. It will make you feel bad and uncomfortable for sure. If you aren't a complete psychopath yourself, that is.
K: Phew, Freddie I agree with you. The film turned out disgustingly unpleasant, and left me with a strong aftertaste of disgust from everything I saw. I didn't get the idea or the meaning of this movie. The actions of the main character are inexplicable and leave only questions. Was it revenge or was she mentally deranged?
F: Obviously, the main character is a psychotic, deranged bitch.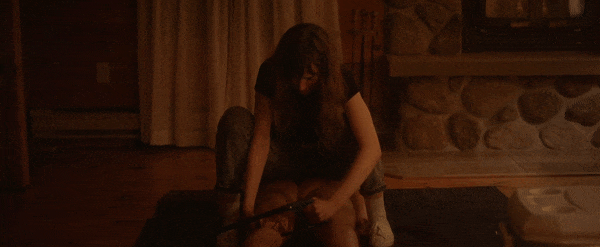 Aaaah shocking... get on with it!
F: Let's start now with the pornographic dick on my face after 30 minutes in, that was just simply annoying and offensive. So, fuck you Madeleine Sims-Fewer and fuck you Dusty Mancinelli. You are black listed here at Cine It. I hope you didn't suffocate that spider for real also, or one day I will get you.
I really don't want to talk much more about this movie, I just want to forget it.

(proceeds to watch Mother Schmuckers animal bacchanalia scene to clean his mind from this impurity).
K: In my opinion, this is an instructional video on how to beautifully get rid of a corpse so that the body will never be found. The rest is cheap, boring wrapping. And the music, why such fearsome music? This film does not belong to the declared genre in any way - horror.
F: With that I have to disagree. What goes on in the movie is truly terrifying, so it belongs to that category.
This is nothing, you will have it right in front of your face.
F: This movie has triggered me and that's a really hard thing to do. So, congratulations on that you fuckers, go on and feed on my Loosh. You're not getting away with these kudos though. Your movie still gets to be BORING AF and a pretentious piece of caca full of annoying long shots, unbearable music and cheap national geographic scenes.
Also, the dialogues try hard to sound familiar, to sound real, but they're just lame and awkward. The only interesting moments happen with Caleb (Obi Abili). I should have just left like his character did instead of putting up with Miriam's shit.
I totally dislike this movie and don't recommend it to anyone, unless you enjoy having your senses and mind raped.
K: I would not recommend this film for viewing either. I regret wasting almost 2 hours of my life on this sheer demented outrage.
The 1 point this movie got is because it contributed to our boobie collection.
Otherwise, I would have given it a 0.