Drive My Car is a 2021 Japanese introspective drama film co-written and directed by Ryusuke Hamaguchi. It is based on Haruki Murakami's short story of the same name from his 2014 collection Men Without Women, while taking inspiration from other stories in it. At the 79th Golden Globe Awards, the film won Best Foreign Language Film. It became the first non-English-language film to win Best Picture from all three major U.S. critics groups (the Los Angeles Film Critics Association, the New York Film Critics Circle, and the National Society of Film Critics).
A renowned stage actor and director learns to cope with his wife's unexpected passing when he receives an offer to direct a production of Uncle Vanya in Hiroshima.
***SPOILER ALERT***
K: I was mentally prepared for a 3 hour-long movie. Drive My Car wasn't easy to endure because it is a slow, almost meditative film with lots of pauses, few characters, and a lot of reflection. Ryûsuke Hamaguchi created a really frank and intimate movie. Murakami and Chekhov, what a combination! Honestly, I was yawning a lot during the movie thanks to the somehow emotionless storytelling. I believe this movie reflects differently on each person depending on their state of mind.
F: Boooooooooooooring! 🤪 I'm still feeling sleepy today after watching this one. But you know what? I can't get rid of a certain after taste. This story, characters and conversations are lingering on my mind. Almost like a haunting. Maybe due to the long exposure? I can't help having a strange feeling of emptiness and sadness for the main character. This is something that I rarely get from a movie.
Bringing you the best scenes once again.😉
K: There is almost no music in the film, which makes it even more difficult to watch; only a few compositions for the entire film. I enjoyed the camera work. Hidetoshi Shinomiya is amazing! Everything is shot beautifully and with high quality: melancholy, striking in its depth. Japanese landscapes, shots with cigarettes in hand while driving, all this is beautiful!
F: Well, I didn't find the cinematography all that spectacular. It didn't impress me. From the movie poster I was expecting a little bit more style from that red Saab and grandiose landscapes with it in it. Shouldn't a red car be a little bit more exciting? I thought the movie was going to start for real after the opening credits roll on top of that Saab cruise. I thought that the intro was finally over and the exciting stuff was about to come. But no. Then, I thought things would get more interesting when the guy from the theater introduced Kafuku's driver. I was wrong again...
Now I feel uncomfortable 😳
K: The most important "character" in the film is the red car. It takes up 80% of screen time. The car becomes a private psychologist's office; all important scenes happen inside the car. It becomes a place for long and leisurely reflection for the main characters.
F: Yep, that's boring 😛. Do I need to understand Chekov to enjoy this movie a bit more? Perhaps it has the right kind of pace for someone who went through the same anguish as the characters. It might have worked in making me a bit more introspective today, but it was a completely boring experience, even the sex scenes. 😂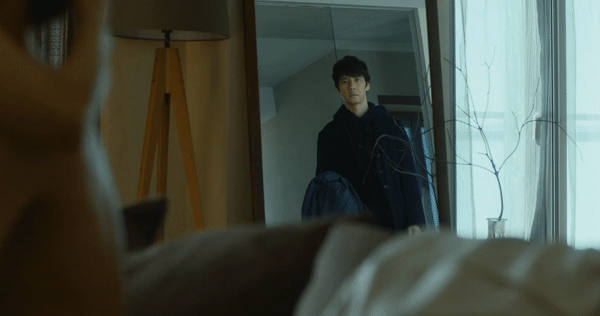 This is what we call a "horn" in my country. 🐂
K: "Drive My Car is really very difficult, and I'm not at all sure that I understood this film correctly. Life here is suffering and trial, and the use of "Uncle Vanya" in the film reinforces this message, the characteristic of hopeless Russian classics. The fact that life needs to be lived, that you just need to move on because there is also a lot of suffering nearby. Probably, in order to fully understand the complexity of the idea of the film, I have to, at least, live for a little while in Japan. Or reread Anton Chekhov.
DIRECTOR HAMAGUCHI TALKS ABOUT THE MOVIE
HAMAGUCHI BACKSTAGE OSCAR SPEECH