Postman Blues is a 1997 Japanese criminal action comedy-drama film directed and written by Hiroyuki Tanaka under the name Sabu. The film features Shin'ichi Tsutsumi, Keisuke Horibe, Ren Ohsugi and Kyōko Tōyama in the lead roles. It tells the story of a postman (Shin'ichi Tsutsumi) who is mistaken by the police as a criminal. The film was released in Japan in 1997 and later in Italy in 1999 and Brazil in 2003. Hiroyuki Tanaka won the New Blood award at the 1999 Cognac Festival du Film Policier for the film.
Sawaki is a postman who's not quite thrilled about his boring way of life. But his life is about to change when he delivers mail to his old schoolmate Noguchi, who's now a member of the Yakuza, the Japanese Mafia, and just finished cutting his little finger off.
***SPOILER ALERT***
F: We reached the end of our 90's-Crime-Japan themed week with Postman Blues. This is the first movie I watched that was directed by SABU, and I love it. We follow a postman that's depressed about his work and the lack of excitement in his life. When he meets an old friend who is now a Yakuza, a retired hitman and a suicidal cancer patient with whom he falls in love, all the excitement that life has to offer is brought back. All these meetings end up making him the most wanted man in Japan, without him knowing.
K: We had a great Japanese week! I also liked Postman Blues a lot! Hiriyuki Tanaka (SABU) managed to create a worth watching movie. A serious plot is generously diluted with black and surreal humor.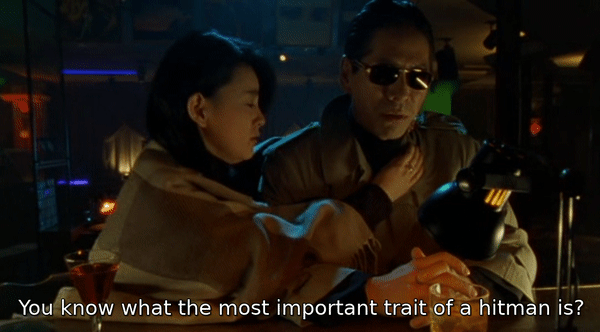 Ren Osugi looking kick ass.
F: This is a really silly movie that can't be taken too seriously. It has very colorful and interesting characters that seem straight out of a manga book. I really don't understand how nobody expanded on these characters and stories and turned this into a cartoon. My favorite character is the stylish hitman with little hitmans inside of him, portrayed by Ren Osugi, 😎 (the only recurring actor in all 5 movies we watched this week!). His scenes were very stylish and full of funny dialogues. Some situations in this movie are really absurd, and when I try to explain them to someone, that's when I laugh the most. I'm thinking of the Olympic cyclist scene here. It's ultra ridiculous.
The ending of this movie has entered my top 5 favorite endings ever, and for that alone it gets 20 points. Within a few seconds, that still shot with the director's name, completely blew up the coolness meter to pieces. Has this editing ever been done on a finale before? It also gets 20 points for the scene in the GIF below. I had to rewind this scene immediately to watch it again, just look at its meme potential. Pure GOLD.
(Full scene below our ratings).
K: Hihihi, that guy was so funny. That look of his - hilarious! I liked our main character bicycle cruising a lot; the tempo was different all the time, depending on the mood he was in. Following Sawaki's red bicycle through the streets of that apparently deserted and cute city was a treat to my eyes. I was actually wondering if these streets have changed a lot or if they remain the same these days. 🤔 So I wanted to mention the great cinematography and, as Freddy already said, a brilliant film editing.
As a woman, I liked the love story. SABU didn't give much time for the main romantic couple to be together, but the few scenes they had were extremely cute, touching and also sad. The reunion of Sawaki (Shin'ichi Tsutsumi) and Sayoko (Kyôko Tôyama) at the end was still a happy ending for me.
F: I also enjoyed the romantic aspect. It was gentle. The last image we got to see after the credits roll made me smile. Overall, this is a great crime-comedy movie with lots of creativity. If you don't mind some over-the-top scenes and totally illogical happenings, give it a go! We will be doing a SABU week here at Cine It for sure, 'cause it looks like we have a great, not so well-known director to discover, don't you agree, Krasnaya?
K: I am definitely in to watch another SABU movie and find my favorite one!
They look really good together.
POSTMAN BLUES - HOSPITAL GUY
POSTMAN BLUES - HITMAN TOURNAMENT
Our blog is update everyday at 21:00 (WEST)