Sonatine is a 1993 Japanese yakuza film directed, written and edited by Takeshi Kitano, who also stars in the film. It won numerous awards and became one of Kitano's most successful and praised films, garnering him a sizable international fan base. The title Sonatine comes from the musical term sonatina. Kitano said that when learning the piano, when the learner gets to sonatinas they have to decide where they want to go, whether it is to classical, jazz or popular music; marking the point of crucial decision making. This refers to the character Murakawa in the film.
Several yakuza from Tokyo are sent to Okinawa to help end a gang war. The war then escalates and the Tokyo drifters decide to lay low at the beach.
***SPOILER ALERT***
K: So, the list of Kitano films we watched continues to grow. This time we had an absolutely amazing picture - Sonatine, a movie about the life of the Yakuza. I expected to see a lot of gang warfare, blood and violence. Instead, Kitano showed us a sad movie about people who have chosen their path and are forced to go through it to the end, taking bitter pills and sowing very little human happiness.
F: That's right, today we are getting deeper into Yakuza territory. The not-so glamorous life of a gang from Tokyo is what we follow in this movie. As I mentioned in the previous post, here we have Takashi Kitano again, now as the director and the starring actor. I enjoyed the movie. I like its serene pace, it got me in that same nihilist mood of the characters; death doesn't matter much, and vengeance feels like a dull task. Like Murakawa says, "When you are scared all the time, you reach a point where you wish you were dead". After years of violence, they seemed dead inside, alright.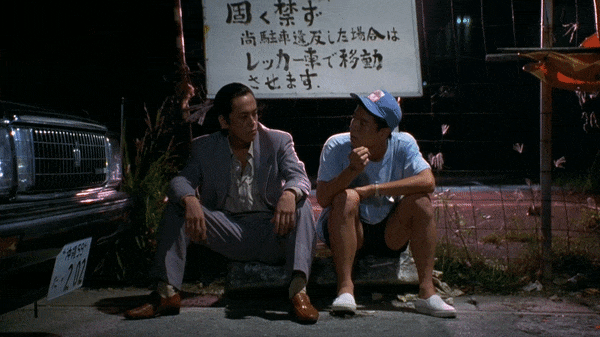 I wish I had some. This movie would get 100, I bet!
K: The film evokes very strong feelings. This is the second Kitano film for me where he does not use people's emotions. As such, there is no crying or wild screams. All feelings are conveyed by amazingly beautiful "silent" shots and unique music by Joe Hisaishi. How much pain, tearing apart the main character is in the flickering of his automatic rifle? The incomparable part of the film where the Yakuza goof off like kids - depicts folk dances, sumo wrestling, showers in the rain and traps in the sand. This part is funny and painfully sad, as it feels like this is all the last time.
F: That's what I enjoyed most about the movie, the comedy. The time that the gang spends monkeying around that beach house is very entertaining and I started to feel empathy for the characters. Especially for Ken (Susumu Terajima). "Ken" was the number 2 in this gang as he was in the gang from the previous movie, "Kids Return". That was a fun detail. The action scenes have a strangeness to them and seem like straight out of a bad action movie from the 80's; amateur, that is. No one moves or acts like they want to survive. So again, they probably just wish to die in these shoutouts.
Yeah, this looks weird. The white coat guy reacted very late to his wound.
K: Probably, I also liked this film because of the sea. I adore it and there is a lot of sea in Sonatina, which is a reflection of eternity in Kitano, against the background of which people resembling ants fussily sort out their petty affairs.
F: I like Kitano's character very much and he is the moving force of this movie. He really looks like a dangerous and unpredictable fella and I was always curious to see his character develop. In the end, I became a little bored with all the gangster life. I had enough when I had to wait with Murakawa in the parking lot for the right time to kill all the mobsters. What came after that was not very surprising. All in all, it's a good movie with excellent cinematography.
Tomorrow we bring you more crime from 90's Japan.
"Indecent exposure is fun" - One more to our boobie collection.
TAKESHI KITANO INTERVIEW
TARANTINO TALKS ABOUT THE MOVIE
Our blog is update everyday at 21:00 (WEST)