Something Wild is a 1986 American action comedy romance film directed by Jonathan Demme and starring Melanie Griffith, Jeff Daniels and Ray Liotta. It was screened out of competition at the 1987 Cannes Film Festival. The film has some elements of a road movie combined with screwball comedy.
A free-spirited woman "kidnaps" a yuppie for a weekend of adventure. But the fun quickly takes a dangerous turn when her ex-convict husband shows up.
K: Hello Freddy, here comes the last day that we dedicate to the insanely talented actor Ray Liotta. "Something Wild", which was Ray Liotta's second movie, concludes our tribute week. So I absolutely loved this movie! This is a wild comedy tinged with crime. Jonathan Demme made a pleasant romantic movie - fabulous and poignant, which also has a frantic rhythm. I had a feeling that it was not the characters of the film who were pulled out of the dullness of everyday life, but me. After the eternal groundhog day, Lulu, full of bracelets and amazing earrings, appears, throws you into the car and takes you into the many-colored world. A world of recklessness that flows to the sounds of reggae, rock and afro-beat music.
F: Hiya Krasnaya! What an 80's hidden gem of a movie! In "Something Wild" we follow Charlie, a business executive and a family man played by goofy-looking Jeff Daniels, who is sort of kidnapped by this crazy girl, Lulu, played by Melanie Griffith, who reminded me of a brunette Cindy Lauper. I was expecting lame and corny stuff from this premise, but I ended up enjoying this romantic-comedy ride a lot. The first part of the movie is exclusively dedicated to our newfound mismatched couple. We get to see Lulu's criminal shenanigans, motel bow-chicka-wow-wow and nice conservative parental meetings. Most of the time, I had a smile on my face seeing these two characters interacting together while they drank and drove to god knows where. They are charming and charismatic and they reminded me of my own carefree and crazy times. Now, I'm a father and I can't do anything truly wild anymore... at least until my daughter is grown up and independent.
I laughed so hard at the way he said that!
K: At first, I thought that Lulu would fool Charles and that a predictable unenviable fate awaited him. But my suspicions failed. And further, I want to say that the plot continues to twist around your finger. The film breathes not only by the plot, but also by the energy of the actors. The trio composed by Jeff Daniels, Melanie Griffith and Ray Liotta are the bomb! Ray Liotta made me anxious. He is brilliant and perfectly plays all the unpredictability of his character. It's amazing how he manages to radiate so much hidden threat with just a look and a smile. Jeff Daniels perfectly conveys the representative of the office plankton who went into all serious trouble, and Melanie Griffith transforms from a mysterious swindler into the cutest creature, which even cats are thrilled to be around.
F: That's right, after a full day of adventures, we get to the second part of the movie where we are presented with Ray... an ex-convict and the former husband of Lulu. The minute he is introduced, a switch is flipped. The movie changes in tone completely and it's amazing how director Jonathan Demme and writer E. Max Frye pulled this off. It would be so easy to make a boring and predictable plot with a jealous husband who just got out of prison. This wasn't the case at all. When the trio is complete, the chemistry shown between them is spellbinding. Ray Liotta brings in the element of danger and shit just gets REAL. Ray Sinclair is absolutely my favorite character, it gets dark when that guy walks in.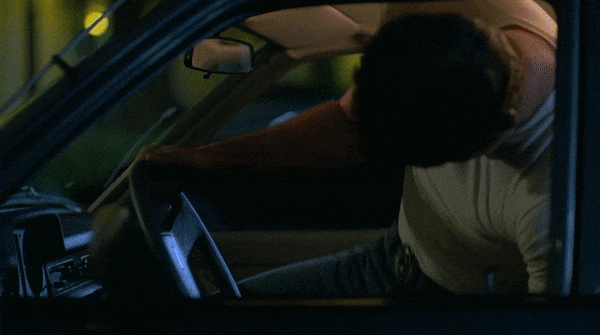 Priceless reaction.
K: Jonathan Demme made a charming movie. As if about love, but rather, about passion and its consequences. I definitely recommend watching it, and I hope that under the credits roll you will want to shake it along with the charming girl that is singing.
F: I was enchanted with that girl singing acapella. Such a raw and beautiful ending. In fact, the music from this movie gets 40 points alone. You can clearly understand that this is also an important part of the movie and that the songs and live music were chosen with care. For me, this is a must-watch movie from the 80's that will always remain fresh. I feel really glad to close our tribute week to Ray Liotta with it. See ya tomorrow for the wrap up.
Melanie Griffith added to our collection.
RAY LIOTTA INTERVIEW
THE MAKING OF
Our blog is update everyday at 21:00 (WEST)