Sticky Notes, also known as The Backup Dancer, is a 2016 American drama film written and directed by Amanda Sharp, produced by Katie Mustard, and starring Ray Liotta, Rose Leslie, Gina Rodriguez and Justin Bartha.
The film explores the story of Athena (Rose Leslie), a struggling dancer trying to make it in LA. Athena's father Jack (Ray Liotta) interrupts her lonely and detached existence when he asks her to move home to Florida to care for him... big news: he has cancer.
K: Hello Freddie! May I start by thanking you for your talent for finding something very rare. That's what happened with the film Sticky Notes by director Amanda Sharp. There is not even a photo of her on IMBd, and it becomes sad that neither her nor this movie received the attention that it deserved. She made a very touching movie that perfectly mixes comedic and sad moments.
F: OVERLOOKED AND UNDERRATED!!! With that shout I start our movie talk about our 4th movie in our Ray Liotta's tribute week. This is a fantastic movie and it seems like someone is trying to hide it! Who is director Amanda Sharp?? Like you said, there's nothing online about her! She directed and wrote a magnificent movie about the love between a daughter and a dying father. Even though I enjoyed every minute of this film, I didn't become totally convinced of its greatness until the last scene. I can only say WHOA! I was suspicious about what was revealed, but still it came as a surprise! After finishing it, I could watch the movie all over again with the new perspective it gave me.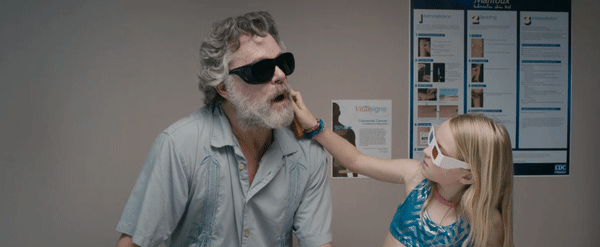 First time seeing gray hair Liotta.
F: Like the movie, Ray Liotta itself was an overlooked and underrated actor in my opinion. I think this was the first movie in the last decade I've seen with him. He was great as this non-politically correct immature father. But, who really shined was the main character played by an actress best known for TV shows like "Game of Thrones" and other stuff that I don't care about. I've only seen Rose Leslie once, and it was in the series "Utopia" (UK version). She's talented and a real hottie. ( ͡° ͜ʖ ͡°) I will probably watch "Game of Thrones" after all.
K: I noted to myself that Ray Liotta has a gut feeling for great films. In this film, he plays the father of the main character, Athena - Jack Morehead. He brilliantly plays a person with lung cancer who continues to smoke a gigantic amount of cigarettes a day and invigorates despite a terrible diagnosis. He is caustic and demanding of his daughter (during the scene where he snaps at her in the elevator because she was late - I felt uncomfortable as much as she did). Despite this, he loves her endlessly. Rose Leslie did a dramatically great job as a daughter who is trying to figure herself out and how to grow up.
A side boobie is better than no boobies. In case you're new around here, we have a boobie collection.
K: This film is thought out to the smallest detail: it has excellent dialogues, it is aesthetically beautiful in the dance choreography performed by Rose Leslie and the music that follows the story is very well chosen. And yet, as it turns out, this is a puzzle film that is assembled into a big picture only in the last minutes, and you sigh with relief because everything finally fell into place and the questions that you ask yourself throughout the film receive logical answers.
F: I was very glad to hear several tracks from Grimes in the movie, since I enjoy her music very much. Grimes' vibe just fit right with the character Athena. This movie is definitely going into my favorite movie collection and I definitely recommend it to anyone who likes a good family drama dealing with a hard subject like cancer. I was not sad when her father died, but I was deeply sad when a daughter's single father upbringing flashed before my eyes.
The poor dude was so disappointed.
K: This is a film about fathers and daughters, where the relationship - boss and employee, changes itself into a relationship between papa bear and honey bunny; a film about forgiveness, about childhood and how important it is to love here and now. I also highly recommend watching this film!
Favorite Pants Scene
Dance in the Park Scene
Our blog is update everyday at 21:00 (WEST)