Ali & Ava is a 2021 British drama film, written and directed by Clio Barnard. The film stars Adeel Akhtar and Claire Rushbrook. The movie was nominated for 2 BAFTA awards.
Ali and Ava, both lonely for different reasons, meet and sparks fly. Over a lunar month a deep connection begins to grow, despite the legacy of Ava's past relationship, and Ali's emotional turmoil at the breakdown of his marriage.
K: We spent yesterday's evening with Ali & Ava on the streets of Bradford, a city in West Yorkshire. Clio Barnard made a very realistic indie movie, about the fact that all ages are submissive to love, and that despite all the hardships that fate brings you, you need to find the strength to move on. Also, there is a serious social connotation here. The topic of racism in modern Yorkshire seems acute.
F: Hello gov'nor! And here we have it, another romantic movie on my blog. This time, the romance happens between a guy from a Muslim family that seems to have ADHD, and who is going through a separation, and a middle-aged woman full of kids and grandkids, who had a few husbands before, one of them being a racist skinhead. Fortunately, that ex-husband is dead now. Adeel Akhtar plays Ali (Me and Krasnaya know him and love him from the TV show "Utopia"- highly recommended), whose divorce is not going to be easy. Firstly, because he still loves his wife very much (even forgiving her for being a cheating bitch), and secondly, because his family, who's not aware of his separation, is just too religious, which means a big scandal is going to happen when they find out about it. Claire Rushbrook plays Ava, who has her life settled. She has a steady job and a happy life with her kids. Even so, she lacks something. Some romance, some caring. Ali is about to bring that to her and make things messy for a while.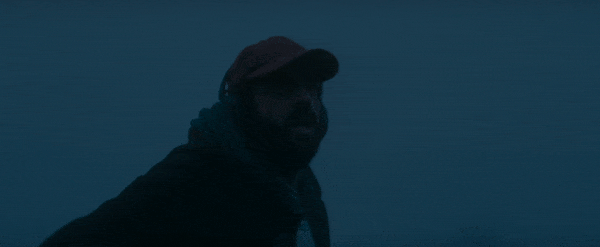 Daniel Avery - Drone Logic is playing.
K: The music in this film has a special role. Ali, with his love of rap and rock music, dancing in the morning on the roof of his car - still a teenager at heart, easily finding a common language with children. Ava, singing Irish folk to her granddaughter, is filled with inner warmth, despite abusive relationships in the past. Music here acts as a savior of the soul, it heals a wounded heart. The scene with Ali and Ava singing while standing on the couch, each with their own song and at the same time enjoying each other, was so touching. The chemistry between the two leads, Adeel Akhtar and Claire Rushbrook, is remarkable. It is felt that the actors put their soul into it, and lived the stories of their characters 100%.
F: (Freddy sings: slave to the radio, s-s-slave to the radio). I have that song stuck in my head today. The British 98% of the time have their music right. I got to hear the Buzzcoks and Dylan, so points for that. I was not a big fan of that scene on the sofa-boat, to tell you the truth. Those fun romantic vibes were coming a bit cringy, probably because of an age prejudice I have. I preferred the romantic moment where Ali said that he wanted his eggs scrambled; I enjoyed Ali's witty remarks.
My favorite scene has to be the one with the kids throwing rocks at Ali's car. That's exactly how you win the kids from around these parts; you need to know the local gangster rapper's lyrics by heart and then give them a ride home without them even asking. Done, no more rocks next time. I like the optimistic nonsense here. Ali conquers the kid's unsolidified silly hate through his car speakers and his positive attitude. From that moment on, only good vibes are rolling. Unlike the piggyback ride that Ali gives to one of his child tenants (Ali is a landlord), this scene convinced me of Ali's good nature.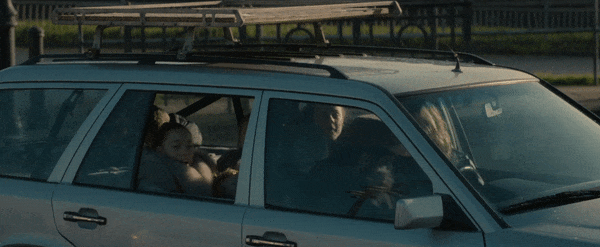 Good Vibrations only.
K: This movie definitely deserves attention. Clio Barnard skillfully mixed serious subjects with moments of humor in the film, lovingly showing, probably, not the most remarkable Bradford, but a very lively one.
F: Today I feel like I have just watched a soap opera episode with Ali & Ava. The movie, with its continuous moderate pace, faintly managed to evoke in me some feelings of empathy. I had them, for Ali's loneliness and longing for his wife and child he never had, and for Ava when she gets a little fracture in her heart. The movie, being a mature movie full of understanding, quickly heals Ava's heart and brings us an unremarkable happy ending. I recommend it to older and broken people.
This is the dawning, of a neeeeew era - Great!
CAR STONING
ON THE SOFA BOAT
AVA'S HEARTFRACTURE
Our blog is update everyday at 21:00 (WEST)