Boiling Point is a 2021 British drama film directed by Philip Barantini and starring Stephen Graham, Vinette Robinson, Ray Panthaki and Hannah Walters. It is a one-shot film set in a restaurant kitchen. It is an expansion of a 2019 short film of the same name, also directed by Barantini and starring Graham. At the 75th British Academy Film Awards, the film received four nominations: Outstanding British Film, Outstanding Debut by a British Writer, Director or Producer (writer James Cummings and producer Hester Ruoff), Best Actor in a Leading Role (Graham) and Best Casting (Carolyn Mcleod).
Enter the relentless pressure of a restaurant kitchen as a head chef wrangles his team on the busiest day of the year.
K: Hey Freddy! Here we go to our new week theme and this time we have the BAFTA Outstanding movies 2021 category. We open the week with the film Boiling point. The tense drama of Philip Barantini, which grew out of his own short film, is a very unusual sight. It turned out very dynamic, because Barantini shot this film in one shot. This movie is incredibly realistic, telling the story of one very intense evening in a restaurant. And during that evening I became a part of this team, feeling all the hellish fatigue, internal corrosive heat and the despair of our main characters.
F: Howdy! I'm very happy with the start of our week. This TRUE one-shot movie (not fake as Birdman and others) is an amazing accomplishment and got me hooked from beginning to end. It only took 4 takes to get to this super realistic busy night in a luxury restaurant. Can you imagine screwing up at the last minute just having to start shooting all over?? Insane. So our cameraman starts the movie by following the head chef, Andy, who is having a really shitty time. He had just been through a divorce, has a "little" vodka and cocaine problem, and is owing a lot of money. Tonight, he and his staff are going to have an extra complicated time. Except for the guy who washes dishes and the two flirtatious workers. They have little screen time but they are my favorite characters from the bunch for their stress-free attitude. Hakuna Matata!
Racist prick!
K: The protagonist of the story, Andy Jones, is brilliantly played by Stephen Graham. His life is reminiscent of the eternal running of a squirrel on a wheel, when he can't even find time to call his son. I desperately felt sorry for him, exhausted, brought to the boiling point by the events of one evening. Barantini also perfectly showed the role of the team in the restaurant, where everyone is important and everyone depends on each other, and any oversight would result in a general collapse. I absolutely loved Vinette Robinson as sous chef Carly, who goes all out to protect Andy no matter what. Here everyone has their place, and the actors perfectly conveyed the difficulty of combining humanity and warmth with the need to be a living cog in an uninterrupted process. Everyone has their own grief, but the work literally makes you turn into a smiling robot.
F: Every actor is brilliant in this movie and you can tell that Stephen Graham was completely in the zone. I hope there's a behind the scenes of this movie. I would love to know how everyone was being coordinated and what they were doing when the camera was not on them. About Philip Barantini, in case you don't know, he worked as a head chef and Andy is loosely based on his life and experiences working in restaurants. This is the reason why the movie feels so realistic. This is what he said in an interview for "The Book of Man": "I think my experience of working in kitchens is that it's like all one take. It all happens on this one night, and you've just got to be on the same train as everybody else. Because, if you fall off the train, the whole thing could be messed up. That's what I kind of wanted to get across, a slice of life. Just throw the audience in, and then pull them back out again after an hour and a half in this moment in time." - I think he successfully achieved what he proposes here. It really sucked me in for one and a half hours.
Cute.
K: This British indie movie is definitely worth watching. This is a very high-quality and soulful drama that captured our attention in the very first minutes. We recommend it!
F: I have to admit that this movie makes me feel a little envious of the people who can eat at these places, because I can only afford a happy meal at McDonalds.🍟😢 The world of food critics and haute cuisine is something that I don't sympathize much with. It seems like the monarchic aristocracies have survived the guillotine and flourished through the 5 star Michelin restaurants. In my imagination, they are all pretentious snobs who think they're better than everyone else. And now you even have the Instagram influencers who make me feel sympathy for these regular snobs! This is just my envy talking, that it will end up saying that you can only eat fancy when world hunger is resolved...
Anyway, better than Gordon Ramsay, this is definitely a must watch movie. Good lad, Philip is a good lad.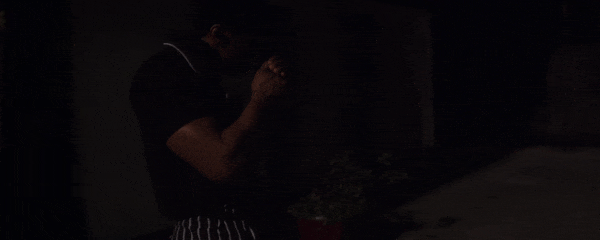 Taking out the thrash, smoking some weed, myyyy man.
MEET ANDY JONES
THE MEAT IS TOO PINK
HOW TO TREAT YOUR COSTUMERS RIGHT
Our blog is update everyday at 21:00 (WEST)