Brian's Song is a 1971 ABC Movie of the Week that recounts the life of Brian Piccolo (James Caan). The production was such a success on ABC that it was later shown in theaters by Columbia Pictures with a major premiere in Chicago; however, it was soon withdrawn for lack of business. Critics have called the movie one of the finest television movies ever made. A 2005 readers' poll taken by Entertainment Weekly ranked Brian's Song seventh in its list of the top "guy-cry" films.
Based on the real-life relationship between teammates Brian Piccolo and Gale Sayers and the bond established when Piccolo discovers that he is dying.
K: Hello friends and Freddie! Our second film, Brian's Song, is based on true events, telling the story of the life and death of young football player Brian Piccolo (James Caan) and his friendship with the surly and reclusive Gale Sayers (Billy Dee Williams). The film is sentimental, with some racial issues and priceless NFL footage. But the most valuable thing in this film is friendship, despite social prejudices and the difference in characters. In Russia we say a friend in need is a friend indeed. And I feel extremely sad to realize that at the moment I don't have a friend like Brian Piccolo.
F: I will start by imitating Nelson from the Simpsons: ah, ah! You didn't get me! I'm a real tear-jerker and this top "guy-cry" movie didn't make me use my little handkerchief for tear wipes. Perhaps you have to be an American and really into the whole football thing to shed those tears. It was also really hard for me to get all the football jokes. Nonetheless, this is a goddamn good TV movie! I didn't cry, but I was still touched by the story of those 2 football players from the Chicago Bears who had a true and beautiful bromance going on. You don't have a friend like Piccolo, Krasnaya? Who does nowadays?!
The NFL footage looked awesome with the sounds of crazy-jazzy percussion on top.
K: James Caan is good here. He perfectly captured the open and cheerful temperament of a dying man. The central moment of the film is Sayers' speech at the George Halas Awards. Freddy, did tears well up in your eyes at that moment? As it turns out, every season, the Brian Piccolo Award is given to one rookie and one veteran who best exemplifies the courage, loyalty, teamwork, dedication and sense of humor of the late Bears running back.
F: James Caan is very charismatic.With his positive attitude, wiseass smile and one-liners, it's impossible not to feel sympathy for him. Cool to let us know about that award Krasnaya.
"I love Brian Piccolo, and I'd like all of you to love him, too. Tonight, when you hit your knees to pray, please ask God to love him, too," Sayers said this to an audience of 600 people, so they say. That speech is very touching, but I haven't shed tears since Mr.Long. ;) I would easily cry with laughter at Piccolo's racist jokes, like when he said to Gale that he understood now why he had a strange craving for chitlins (a dish associated with black slaves) after receiving some of his blood. He also calls Gale a chicken nigger to try to provoke him, but their trust in one another is so strong that they just both burst out laughing. That's what friendship is all about.
That didn't work 😂
F: There was a moment that was really sentimentally over the top and that's when Gale was giving the bad news to the team. I think this is what prevented me from getting more emotional by the end of the movie. All the players were getting so sad and crying... oooooh. In that locker room was when I could smell the odors of a TV movie.
I was also very impressed with the racism still present in 1965 USA. I thought that by the 60's, shit was a little softer already! A white NFL player couldn't share a room with a black companion! What a scandal!!!
K: I like this movie. It is touching and simple with a touch of endless sadness in the end. Fans of James Caan and American football must watch the movie.
F: Like you said, this is truly a must-watch heartbreaking story for all American football fans. It's always sad when young people have to go, especially when they have to leave so many positive things behind...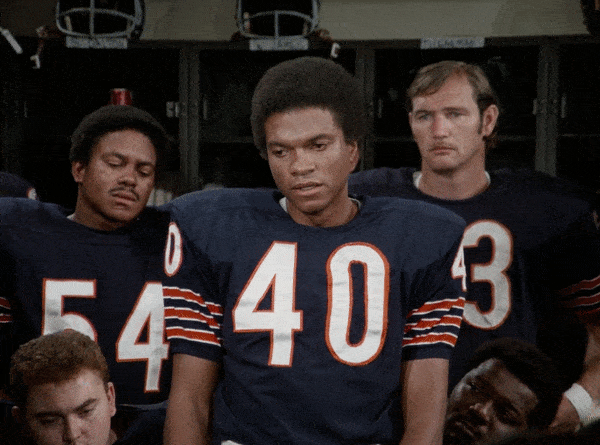 And the Oscar for best extra goes to...
MASHED POTATO PRANK
CHICKEN NIGGER
GALE SAYERS SPEECH
Our blog is update everyday at 21:00 (WEST)