Funny Lady is a 1975 American biographical musical comedy-drama film directed by Herbert Ross and starring Barbra Streisand, James Caan, Omar Sharif, Roddy McDowall and Ben Vereen. A sequel to the 1968 film Funny Girl, it is a highly fictionalized account of the later life and career of comedian Fanny Brice and her marriage to songwriter and impresario Billy Rose. The screenplay was by Jay Presson Allen and Arnold Schulman, based on a story by Schulman. The primary score was by John Kander and Fred Ebb.
Story of singer Fanny Brice's stormy relationship with showman Billy Rose.
K: Hi there! We close our week with a charming musical dramedy from 1975 - Funny Lady. A movie that is the continuation of Funny Girl (1968), in which Barbara Streisand made her film debut. In Funny Lady, the protagonist, Fanny Brice, appears before us at the peak of her career in the 1930s, but not at the best moment of her personal life. I can't consider myself a big fan of musicals, but the director elegantly wove the musical numbers into the narrative canvas.
F: Hi Krasnaya! It's so hoooooot again today... I would like to warn you that I've been drinking today, and I'm still a bit tipsy. So, this probably will be my best review ever. Funny Lady is a movie. I like movies. Just kidding. A musical! My favorite genre. I've chosen this movie for our James Caan tribute week to balance things out by having some romantic stuff for Krasnaya. It seems that she also doesn't like musicals... great. I could have gone with another thriller...
Being my least favorite genre, I can tell you that I was very much entertained for the 1st half of this movie! I didn't think this was strictly a musical, because the singing was being done on stages or studios where that stuff typically happens. But later in the movie, they start singing on trains and planes, and I don't like that because it makes me throw up.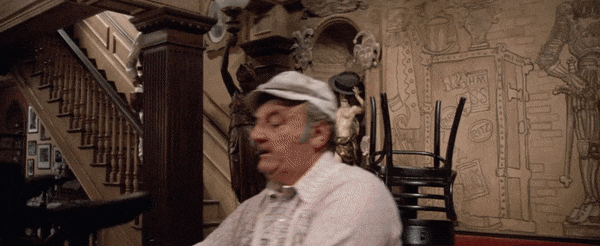 "Spray 'em' - I laughed so much here.
K: The movie has a good plot. Barbara Streisand has an excellent voice and the movie is filled with good music and dancing. And of course, costumes. They are just amazing! But throughout the movie, I couldn't help feeling that something was missing. I had a few favourite moments in the movie - the scene where Fanny is trying to get rid of Billy by throwing talcum powder at him, the scene on the train and the water show scene. These scenes made me feel a great chemistry happening between Barbara Streisand and James Caan. The rest of the time, I was a little bored watching what was happening on the screen.
F: There are moments of astonishing cinematography, like in my favorite scene where Streisand sings on top of a giant cigarette holder. Such a cool scene. Curiously, the cinematographer was a Chinese-born American called Wong Tung Jim and this was his last project. It earned him an Oscar nomination. Wikipedia tells us that during the 1930s and 1940s, he was one of the most sought after cinematographers in Hollywood due to his innovative filming techniques. What do you think about that? Really surprising!
The cinematography was not enough to save this movie from falling into the boring category. After 1 hour I was yawning. I was tired of Billy and Fanny's relationship and I couldn't care less about Fanny's relationship with her ex-husband Nicky (Omar Sherif). They're all a bunch of cheating bastards. So, in this "second part" of the movie, me and Krasnaya were mostly yapping away while they sang their silly romantic songs.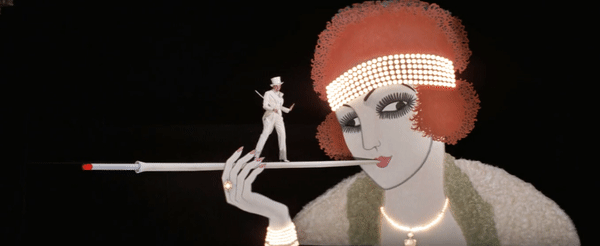 Yep, awesome scene here!
K: The movie itself wasn't bad. I can recommend it to fans of the genre and fans of Barbara Streisand, obviously.
F: I've enjoyed this movie mostly because it spiced up my curiosity for the 30's. I love the American style from this era. This is a highly fictionalized account of Fanny Brice's later career as a comedian and singer, but nonetheless, she surely is an interesting character and I'm always glad to revisit people who have long been gone but are still so present if you wish so. If you like musicals, you will be blown away by this one, because it has amazingly vibrant dancing and singing moments. Barbara Streisand is simply a powerful singing lady. James Caan is also there but Streisand steals all the spotlights.
This is it for our tribute to James Caan. Tomorrow will bring you the week wrap-up.
This guy is AMAZING - Ben Vereen
CIGARETTE HOLDER
AQUACADE
HONEYMOON
Our blog is update everyday at 21:00 (WEST)