Last Night in Soho is a 2021 British psychological horror film directed by Edgar Wright and co-written by Wright and Krysty Wilson-Cairns. It stars Thomasin McKenzie, Anya Taylor-Joy, Matt Smith, Rita Tushingham, Michael Ajao, Terence Stamp and Diana Rigg. It marks the final film appearances of Rigg and Margaret Nolan, who both died in 2020. The film is dedicated to the memories of Rigg and Nolan. The film was nominated for two BAFTA Film Awards, including Outstanding British.
An aspiring fashion designer is mysteriously able to enter the 1960s where she encounters a dazzling wannabe singer. But the glamour is not all it appears to be and the dreams of the past start to crack and splinter into something darker.
K: Hello everyone! Today we plunged into the atmosphere of the 60s thanks to the movie Last Night in Soho. Edgar Wright wanted to try his hand on a new genre and gave us a mixture of thriller, horror and drama. As for me, he managed it so-so. This is the story of a pretty girl from the countryside, Eloise, obsessed with music and fashion of the 60s, who had the chance to study at a London fashion school. She stuffs her suitcase with old records, a vinyl player and socks and sets off happily for the British capital. But London can be a lot sometimes.
F: Hiya Krasnaya. Edgar Wright has directed and written one of my favorite trilogies ever, The Three Flavours Cornetto trilogy, and another favorite movie of mine, Baby Driver (2017). So, I was really happy with the choice we have today. Let me start by saying WHOA, what a beauty Thomasin McKenzie is, and what a lovely name she has 😉. She perfectly plays this very linear, innocent country girl who moves to London to study fashion design. She doesn't fit in with the rest of the class, she's not cool like her new colleague and roommate Jocasta (a jealous untalented bitch). They make fun of her and she sees herself forced to move to a rented room. That room is filled with spirits from the past, and she is able to see and hear them all nice and clear.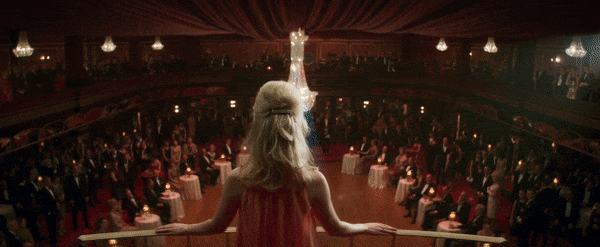 Anya Taylor-Joy is also a real cutie.
K: What I liked the most about the movie was the visuals. The film is shot really well. Unblurry scenes, special color and lights, shooting dynamics, costumes and interiors. The picture turned out to be juicy, eccentric and disturbing. There is a place for both loud music (by the way, talentedly selected) and neon that beckons night moths. And in this beautiful wrapper, the director put us into the theme of abuse. In the film, all the men are shown as horny scoundrels, except for the African-British John (Michael Ajao), who, like a submissive dog, runs after the schizophrenic Eloise. And this is the first thing that bothered me.
F: Yep, the visuals are just amazing. I love those neon lights, the mirror gimmicks, the imagery in Eloise's moments of panic, and so on. Last Night in Soho has outstanding production design and Edgar Wright shows us how cool the 60's look and feel to him. Music, cars, clothes, I definitely share the same passion as our main character, Eloise. I'm always happy to hear bands like The Who and The Kinks and watch some 60's dance moves in my movies. That's 20 points alone in my score.
About the writing, it comes off as a bit simplistic sometimes, there isn't much depth to it, especially around the characters and their dialogues. But, I don't think this movie needs better writing. I see it as an adaptation of a horror cartoon comic book story and this story was still able to surprise me with the plot twist at the end. This is Edgar Wright we are talking about. The man is all about style and dark humor. There was one thing that I didn't enjoy very much and that was the ghosts that haunted Eloise. The serious horror didn't work very well for me. I think it should have been a bit more subtle and some haunting scenes a little bit shorter. They didn't add anything to the movie.


Trippy and scary.
K: The main problem with the film is that more than half of the events and characters in it are absolutely not needed. Why did they drag in this old policeman, who was immediately forgotten about as soon as he was hit by a car? Why so much attention to Jocasta? From the moment everything went downhill and Eloise realized that Sandy had fallen into the clutches of a brutal pimp, I became not very interested in continuing. From this point on, the film is very long. There are too many scenes of male ghosts with worn faces (one in a library that doesn't make any sense); too much of Eloise's schizophrenic behavior. I didn't empathize with this character at all, by the way. Thomasin McKenzie's performance wasn't great for me. Aaaaaand! The end of the movie was a disappointment. Why this painfully long and even somewhat comical scene on the stairs? Same with the happy ending. Phew, that came out cheap!
F: Now I'm answering all your questions. I think that old policeman Lindsey, was there to confuse you and make you think, just like Eloise, that he was Jack. So, I think he has a good purpose in the movie. Jocasta is there, in my opinion, to give some sense of contemporary time and offer you a bit of dramatic tension at the beginning. I enjoyed her scenes as a warm-up for what was coming and for being the reason for Eloise's search for a room to rent. She becomes irrelevant later in the movie and probably could have had an intervention later in the plot, but I wasn't very bothered by that. I forgot her, just like her "kind" should be forgotten if they never change their fu**ing attitude.
But, but, Thomasin McKenzie is so cute. What are you talking about? I think she was great, she was sweet, fragile but determined and looked really scared when she had to.
That last scene on the stairs was soooo goooood! So much style! Whyyyyyy are you doing this, Krasnaya?! 😛 OK, it's a generic horror trying-to-kill-you-that-will-take-an-eternity but it had so much eye candy!
I enjoyed the movie very much and I recommend it just like I recommend any other movie from Edgar Wright's short filmography as a director.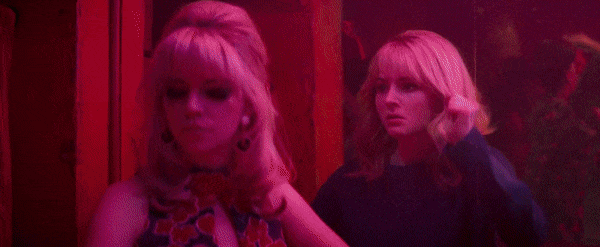 The play between worlds is awesome.
LIBRARY
CABARET
STAIRS SCENE
Our blog is update everyday at 21:00 (WEST)