Misery is a 1990 American psychological thriller film directed by Rob Reiner, based on Stephen King's 1987 novel of the same name, starring James Caan, Kathy Bates, Lauren Bacall, Richard Farnsworth, and Frances Sternhagen. It received highly positive reviews and was a box office success. Bates' performance drew widespread praise from critics and won her the Academy Award for Best Actress at the 63rd Academy Awards, making Misery the only film based on a Stephen King novel to win an Oscar. King himself has stated that Misery is one of his top ten favorite film adaptations.
After a famous author is rescued from a car crash by a fan of his novels, he comes to realize that the care he is receiving is only the beginning of a nightmare of captivity and abuse.
F: Hello, hello! What an exciting beginning for our tribute week to James Caan! I'm so glad to have found Misery, an adaptation from a book of the same name by horror master Stephen King. Paul Sheldon (James Caan) is a famous author who's written a series of books around a character called Misery. He has just finished a new book that is not part of the series, and he's ready to ride back to the city after his reclusive time in a hotel somewhere on a beautiful snowy mountain in Colorado. He crashes his car during the drive and is left to die in a snowstorm. Luckily for him, the retired nurse Annie (Kathy Bates) with a "complicated" past is there to save him. And what do you know! She is his number 1 fan!
K: Hey Freddy! Indeed, a great start to our week! The movie genuinely tickled my nerves. It's so good that now I want to read the book! The film holds strong tension, and is purely psychological. Mysterious silence, rare intrusive music, and kitchy surroundings that make you dive into the atmosphere of total misery. But most of all, the feeling of hopelessness presses on the psyche. I involuntarily associated myself with Paul Sheldon, imagined myself in his place, immobilized, chained to a bed and striving to free myself from the tenacious paws of a number one fan.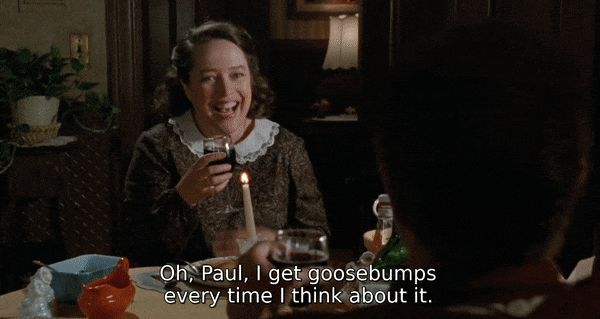 Noooooooooooo!
F: I've found today that Kathy Bates won the Oscar for Best Actress for her role as Annie. I'm very glad that she did! Because she is amazing! She is scary, embarrassing to look at and really, really funny. As soon as the credits rolled, she went straight to my list of favorite psychopathic characters. James Caan is also fantastic and very convincing with his pain and manipulative speeches. Their chemistry as victim and abuser is perfect.
K: Kathy Bates is really infernal! Replacing depression with delight and rage with a smile of love, the main character made me truly afraid. James Caan as Paul Sheldon is also breathtaking. Eyes full of horror and despair, grimaces, screams and a real will to live - this is his whole character. The sheriff and his wife, although they have very little time in the film, are wonderfully revealed.
F: Rob Reiner is a superb movie director and I loved every shot in this movie. During the cliché suspense scenes with predictable ends, I was still very entertained and acting childish with the classic "Omg, hurry up, hurry up, she's coming!" If I was Rob I would have just made a major change in one scene. The penguin! If he wouldn't have made it so obvious with that closeup on the object, the end might have been a bit more surprising and I would have given 100 points to this movie. Yes, Annie appears in a jump scare that you could see for miles coming after she was presumably dead. But I see that just as a little touch of traditional horror. You didn't have other cheap jump scares during the movie, so I was totally fine with that.
And it's impossible not to mention THY horror scene with the sledgehammer and the chunky piece of wood. Amazingly brutal (touches face with satisfaction).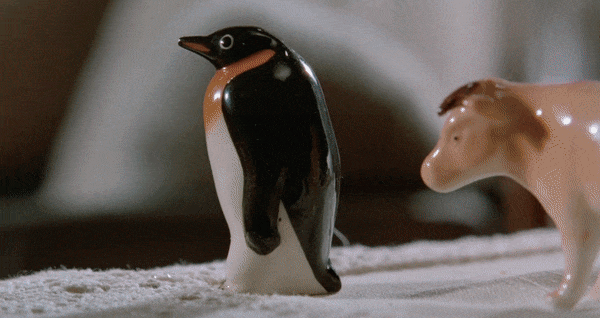 Yep, I would change the approach here.
F: This is a fun, thrilling movie to watch that will satisfy that nostalgic 80/90's horror feeling you might have. For its vibe, it kind of reminds me of Wes Craven's "The People Under the Stairs".This is a must watch for every psychological horror and suspense fan, old and young.
K: If you like Stephen King and prefer tense thrillers, secluded snowy mountain landscapes and a feeling of anxiety, fear and hopelessness, then Misery is definitely for you. This is a quality project that has stood the test of time, that I've watched in just one breath.
Memorable horror.
THE HOG
ANNIE IS COMING!
SLEDGEHAMMER
Our blog is update everyday at 21:00 (WEST)