Air Conditioner is a 2020 Angolan film directed by Fradique (Mário Bastos). The film had its worldpremiere at International Film Festival Rotterdam and premiered June 6, 2020 in Luanda at the We Are One online film festival. The film was shot in 2020 in Luanda by Generation 80. The screenplay is co-written by Ery Claver.
When the air-conditioners mysteriously start to fall in city of Luanda, Matacedo (security guard) and Zezinha (housemaid) have the mission of retrieving their boss's ac.
F: We apologize in advance for having left our week dedicated to Angola open and only after 2 months do this review. We were swamped with work and we couldn't get our hands on the blog. Anyway, I still remember my opinions about the film and I'm sharing them next.
K: Hello movie lovers! We went into a long hibernation after watching Air Conditioner. A story about mysteriously falling air conditioners and Matacedo's adventures to put you to sleep. Freddie and I did not understand this ornate story about air conditioners and Matacedo's melancholy walks around Luanda.
For most of the movie this is what you will see.
F: Boring, boring, boring, the film is absolutely boring and often looks more like a music video. For much of the film, the camera follows the main character as he walks through the city and the buildings where he apparently works as a doorman or guard or whatever. These scenes last an eternity and the only good thing taken away from them is the music we hear. But as I wanted to watch a movie and not a video clip, I was upset. The audio is also terrible and without subtitles I wouldn't be able to understand absolutely anything that comes out of the characters' mouths.
F: On top of that, I couldn't understand anything about the story. I didn't understand what message was being conveyed by all that nonsense about air conditioners. Trying to remember, I'm already feeling bored and wanting to yawn. This is a completely avoidable movie for me.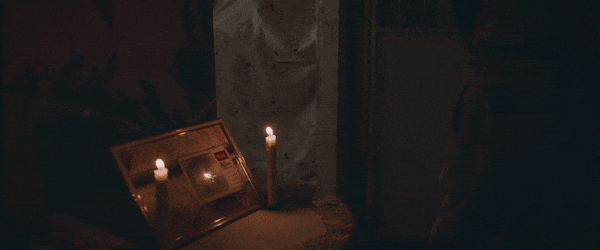 I was actually glad the air conditioner died.
K: After watching this movie, I honestly tried hard to find its meaning. And this is what I thought: maybe the meaning of the film is that generations of people in Angola, who went through a brutal civil war, lost that very human thing. They care about the falling air conditioners, and all the rest to them is not important. They talk about air conditioners, mourn them when they break, or desperately try to fix them.
K: I would like to note the cinematographic and musical parts of the film. It turned out beautifully and brightly despite the unsightly and shabby city of Luanda. It seems to me that this story will be more understandable directly to the Angolans themselves. If you aren't in the mood for a contemplative slow movie, avoid it at all costs.
A picture to resume it.
KUDURU'S A WAR
ANOTHER DAY IN THE LIFE OF MATACEDO
TEA BREAK
Our blog is currently not being updated.