Buffaloed is a 2019 American comedy film directed by Tanya Wexler and written by Brian Sacca. It stars Zoey Deutch, Judy Greer, Jermaine Fowler, Noah Reid, and Jai Courtney. The film had its world premiere at the Tribeca Film Festival on April 27, 2019, and was released in select theatres and on demand on February 14, 2020, by Magnolia Pictures. The film was met with generally positive reviews from critics.
In the underworld of debt-collecting, homegrown hustler Peg Dahl will do anything to escape Buffalo, NY.
F: Hiya! We're back with our third movie of the week dedicated to Zoey Deutch, and this time we have a dark comedy called "Buffaloed". Directed by Tanya Wexler, the film follows the story of Peg Dahl, a girl from Buffalo, New York who becomes involved in the cutthroat world of debt collection. As she navigates this ruthless industry, Peg strives to break free from her working-class background and build a better life for herself.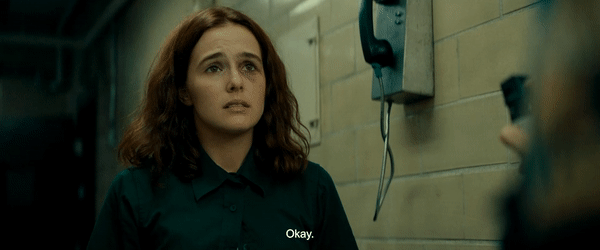 Maced.
F: I have to say that "Buffaloed" is a fast-paced and highly entertaining movie, with a strong performance from Deutch as the feisty and determined Peg. Jai Courtney is also great as her brutal nemesis, "Wiz". Every other actor and character is kind of meh, not particularly interesting or memorable. The film is full of humor, and had me laughing out loud at times, such as when Peg says that she heard a rumor that a debt collector told a debt owner that there's a sniper who will shoot them if they don't pay up. This darkly comedic moment perfectly captures the cutthroat nature of the debt collection industry.
One of the things I really enjoyed about "Buffaloed" was the way it depicted the city of Buffalo as a small, tight-knit community, with its love and support for the Buffalo Bills and its delicious chicken wings. I'm sure there are many other references and details in the film that will be particularly meaningful to those familiar with Buffalo.
Guys, you're welcome.
F: Overall, while the plot of "Buffaloed" does get a bit messy and confusing towards the end, with some unrealistic and unconvincing moments, the film is still a highly enjoyable and entertaining watch. If you're a fan of dark comedies and don't mind a bit of absurdity, I would definitely recommend giving "Buffaloed" a chance.
That's trully disgusting.

TICKET RESELLER
DEBT COLLECTING 101
RICO
Our blog is updated every day at 21:00 (WEST).