CODA is a 2021 coming-of-age comedy-drama film written and directed by Sian Heder. An English-language remake of the 2014 French-Belgian film La Famille Bélier, it stars Emilia Jones as the titular child of deaf adults (CODA). CODA won numerous accolades. At the 94th Academy Awards, the film won all three of its nominations – Best Picture, Best Supporting Actor (for Kotsur), and Best Adapted Screenplay – becoming the first film distributed by a streaming service to win Best Picture.
As a CODA (Child of Deaf Adults) Ruby is the only hearing person in her deaf family. When the family's fishing business is threatened, Ruby finds herself torn between pursuing her passion at Berklee College of Music and her fear of abandoning her parents.
***SPOILER ALERT***
F: CODA is a light and heartwarming movie with an interesting coming of age conflict to be resolved. I honestly thought that this movie would suck after looking at the movie poster and knowing that there was going to be singing. But the movie got me. It got me good. I loved that family. This movie might have its cheap moments, but the subject matter related to the main characters made everything feel fresh. Old, "ancient" jokes worked again. And the usual vomiting tender family moments (I'm a cynical human being) felt sweet.
K: Hey Freddy! So we are moving on and today is CODA - the 2022 Oscar winner for Best Picture! I've found out again, that like the previous movie we watched (Nightmare Alley) this one is also a remake. The original was a French movie - La famille Bélier (2014). Although Sian Heder went much further than the original movie, she only wanted to cast deaf actors for the roles of the members of the Rossi family. The movie is very kind and incredibly touching; there are many moments that make me smile. And there are many moments that may make someone want to wipe a tear from their eyes. There is a lot of music and singing in the film, but the film as a whole is not about music or singing at all. It is about the life of an ordinary person in a not quite ordinary family. And during the credits roll I realized that I never even thought about how deaf people communicate with their ordinary loved ones.
That one time in Vietnam 🤣
F: The movie's subject, in my opinion, is important to be talked about. I've worked for 3 years with people with disabilities. Deaf people have it easy on them in comparison to, let's say tetraplegics. What I want to say is that it is important to understand that deaf people are totally independent and don't need our pity, but we can surely help by insisting on creating a more accessible world for everyone. Unfortunately, seeing what's happening today, I feel we are far from building a compassionate world and letting humanity show its better side. Seems like we roam in that opposite direction. The one the Nazis were so fond of. Thus, the importance of this movie, and why I think the Oscar for best picture is well deserved. Don't get me wrong. This isn't the only reason for the golden statue. There's a great story and wonderful acting in this movie. Troy Kotsur won a well-deserved Oscar for his role as the father; his character was very charismatic.
K: Totally agree with you, dear Freddy! All the actors did a great job; they managed to open each character fully. The film really hooked me at the moment of the concert. The first time is when Ruby's father sees everyone clapping to the beat, and he wants to do it too. But no matter how hard he tries, he can't catch the rhythm. And what made this scene great was the muting of the sound during the singing.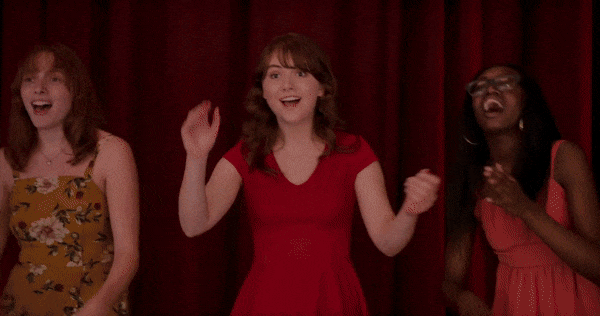 Needs more bass.
F: I liked that scene very much, but that final moment with Ruby (Emilia Jones) and her father was the one that got me good 😢. One thing that we were discussing related to this movie's subject was that there is no universal sign language. Has this even been talked about before? Wouldn't that be great to create?! Not only for deaf people, but because it would be really worth teaching this in schools? I can only see a huge upgrade in humanity's intelligence with a program like this. I got a little sidetracked in our talk about the movie, but I can conclude by saying that it was a very uplifting experience.
K: After thinking about universal sign language, I decided that it's probably good to have different ones as we ordinary people do.
We definitely recommend watching this movie! CODA is a kind and life-affirming film that will not leave you indifferent.
This MF scene got me good...
INTERVIEW WITH SIAN HEDER
CAST INTERVIEW
BEHIND THE SCENES