Narc is a 2002 American neo-noir crime thriller film written and directed by Joe Carnahan and starring Jason Patric and Ray Liotta.
An undercover narc dies, the investigation stalls, so the Detroit P.D. brings back Nick Tellis, fired 18-months ago when a stray bullet hits a pregnant woman. Tellis teams with Henry Oak, a friend of the dead narc and an aggressive cop constantly under the scrutiny of internal affairs. They follow leads, informants turn up dead, Nick's wife is unhappy he's back on the street, Henry's protective of the dead cop's wife. Nick reads and re-reads the case file, broods, watches Oak's heavy-handed style, sometimes joining in. The brass want to close out the case, Nick and Henry stay on it, and bits of evidence point them to an auto body shop. What actually happened; will Nick ever know?
***SPOILER ALERT***
K: This week's theme is dedicated to the early departed actor Ray Liotta. The first film we chose to watch was Narc, directed and written by Joe Carnahan. In my opinion, the script of the film turned out to be very worthwhile - there is an intriguing storyline, well-developed characters, and even a rather large element of drama.
F: Hello Krasnaya, how was the weekend? 😛
Last week every gangster was heartbroken with the news that Ray Liotta was gone. As you mentioned, we started the week with Narc. Here we follow a duo of undercover detectives who are seeking the trail of the criminals who killed a police officer. The movie starts with a foot pursuit on a very shaky camera that almost made my eyes become permanently crossed 🤪. That was a little uncomfortable for starters. I found some bold and strange editing choices in the movie, like when they decided to chop the screen into four. That was hella confusing. I was already a bit lost with all the police lingo or street talking, so this scene didn't help either with my comprehension of what was going on. The movie is not that hard to follow, but I got a little bit confused sometimes.
Right in the face... aaaand in the pregnant lady.
Continuing... Jason Patric (Nick Tellis) and Ray Liotta (Henry Oak) made up a great duet: you believe and sympathize with their characters, each of them has their own problems and principles for conducting an investigation. Ray Liotta was able to perfectly show a man who has been constantly on edge for half his life, doing hard, hopeless work. From his gaze and tantrums, I periodically shuddered.
F: Yes, they were good together, they managed to have a different chemistry from the usual cop duos. Nick's problems were a bit over dramatic for me, and it felt that the movie was preaching "Drugs are bad m'kay?" with his whole family drama. It's curious that I don't remember seeing the actor Jason Patric in any movie before. That's so weird. Who is this guy? (writes new lottery paper).
Liotta came off as a very hard to read character, and that was a good thing. One minute, I thought of him as a really honest cop who just wants to avenge by any means necessary his friend who was killed and, by the end, he definitely looked like a maniac murderer with a hidden agenda. He is such a good psychopath with those magnificent eyes of his! 😂
And what about John Ortiz's appearance as Octavio Ruiz? He was a delightful junkie with a very funny and degrading one scene.
"My cock is killing me man"
K: The film was shot in just 28 days. Thanks to different camera techniques: flashbacks, a running camera, and ragged cuts with multi-shot inserts, Kanahan managed to achieve maximum quality despite the film's low budget. Narc is minimalistic in its locations and scenery. The toxic atmosphere of Detroit city is conveyed in it with great skill. It seems that even the air that the heroes breathe is unhealthy. By the way, during the scene with the drug addict who accidentally killed himself in the bathroom, I thought, why is only Tellis covering his nose with a handkerchief? For 2-3 weeks of staying in a bathroom, that body must have smelled very nasty! 🤮
F: Liotta saw his share of dead decomposing bodies, so that smell was normal for him.
Everything in this movie happens in the last scene where Busta Rhymes (Big D Love) and his compadre are being beaten. That's when we reach the movie's climax and when everything becomes interesting. Plot twist after plot twist and I ended up not feeling very satisfied. Having the whole conclusion come from a dead man's last whispers is never my favorite way of finding out the truth. Btw, was it thanks to the help of his forensic friend that Oak was able to rule out that suicide? Anyway, if you really enjoy crime and detective movies, give it a go. If that's not your beach (Portuguese expression), it's okay to skip it.
K: Fans of hard crime movies with elements of intrigue, as well as fans of Ray Liotta, I definitely recommend watching this one if you haven't.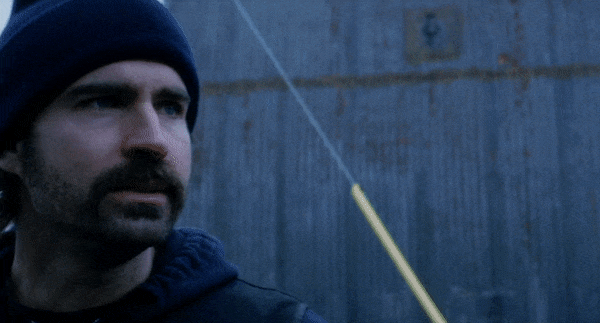 Where is Ray getting his rage from?! Dude's scary.
RAY LIOTTA INTERVIEW
Our blog is update everyday at 21:00 (WEST)