The Tuner is a 2004 Russia/Ukraine co-production feature film directed by Kira Muratova. Its a modern interpretation of the memoirs of the famous Russian detective of tsarist times Arkady Koshko. It premiered at the Venice Film Festival in September 2004. The stars of the film include famous Russian actors such as Alla Demidova, Renata Litvinova, Nina Ruslanova, and Georgi Deliyev. Nika Award 2004 for best actress Alla Demidova, best director Kira Muratova and best Supporting Actress Nina Ruslanova
A young piano tuner befriends two rich old-ladies, and plots, with the help of his girlfriend, to betray their trust and steal from them
***SPOILER ALERT***
F: Hiya Krasnaya! Seems like I have a new favorite black and white comedy! This movie is insanely funny. This is a hidden gem of a movie. We follow the story of a con artist who tunes pianos and befriends two nice old ladies. With the help of his seductive and dangerous girlfriend, they come up with a scheme to scam them. Georgiy Deliev, who plays the character of the con-artist, is amazingly funny with his overacting moments and his charm at fooling the old ladies. Renata Litvinova plays his girlfriend; her character seems straight out of the previous movie we watched, "Three Stories". She's the continuation of the mad-scary Opha.
K: Hey, Freddy! Definitely an amazing movie we managed to watch! For me, this is the best movie by Kira Muratova we've seen so far. A surprisingly graceful, lively and touching movie. It's mesmerizing. I was glued to the screen for two and a half hours and when the film ended I realized that I wanted more. That's the magic of a good movie, isn't it?
Renata Litvinova scares me.
F: What really cracked me up for good in this movie was what was happening in the background. I just can't resist those stupid voices, strange sounds, and total nonsense. It's mandatory that you listen to this movie with a good sound volume (there are great piano tunes also). I've listened to the scene on the restaurant terrace a couple of times already because I find the girls talking in English hilarious. I will leave the video down here, but I don't think it will have the same effect if you watch it isolated. The absurd has to pierce through something that you are following and paying attention to at the moment. I was laughing hysterically at this whole restaurant scene.
K: The acting is incomparable. Every single character is clearly drawn, relevant, and interesting. The film is full of life, vivid and playful; even in those moments when the frame is static, it allows the viewer to fully enjoy the picture and the feelings transmitted through it. It should be noted that in the film there are no adequate and logical characters at all. Each character is filled with some kind of oddity, either in behavior, or in the manner of speaking, or in relationships with others.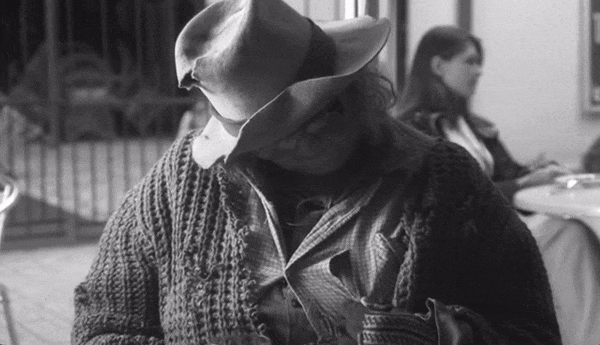 I will leave the complete scene with subs below. 🤣
F: You are right, this black and white movie is filled with colorful characters who act bizarrely and talk funny. You will also find very talented dogs 😂 . To conclude, I will tell you that I have fallen in love with Alla Demidova and Nina Ruslanova. Their characters and acting were so great, my goodness. Even though I was amused in the end, I couldn't help but feel sorry for the destiny of the two old ladies played by them. If you are like me, who enjoys the vast sea of comedy genres, this, my friend, is a must watch. There are different levels of comedy in this film and I'm sure that I haven't found everything there is to find, so I will be rewatching it for sure in the future.
K: This movie is brilliant in every way - dialogues, gestures, camerawork, amazing music, etc. Every frame is a masterpiece when you can press stop and observe it carefully. Beauty lovers will get it. Oh, and for me, the scene of Lina and Andrusha's kiss is another masterpiece by Kira Muratova. I discovered after watching the film that Kira Muratova didn't like kisses in her films. In Tuner she allowed it for the first time, and showed the kiss in a very intimate and beautiful way.
At first glance, this seems like a scene out of a British comedy.
K: Below our ratings I leave you with the song and lyrics performed by the talented Natalia Demitrova in the tram scene. This song is like a ray of sunshine
.
Krasnaya's Score:
100
/100
RESTAURANT TERRACE SCENE
NATALIA DEMITROVA - DREAM
And when we arrive, gentle grasses will meet us
Waves of warm wind will cover our heads
The aroma of forest spirits will open its spell
Yes, the music of the fields will fill us in the spring
Through the thin leaves of green giants
Rays are breaking through dancing on the dew
Thousands of small suns will make us drunk
Hundreds of rainbow dreams will calm us Down
In silence unknown temple
We will examine ourselves with new eyes
Spread out at the bottom of the forest ocean
We will understand that we are still alive
And you hear how many voices above us
These are the birds watching drunken dreams
They are our friends, they live on the winds
Maybe they will have to teach us to fly
We will take a look at the boundless expanses
We will notice what we did not notice at all before
Like huge balls of cloudy snow
Approaching become the size of the sky
And everything that we wanted has become ghostly small
And everything that we have been waiting for is too far
Before us is only the sky , sky and spring
Well, okay, wake up, it's just a dream...