Three Stories is a Ukrainian-Russian crime comedy movie co-production directed by Kira Muratova. The film premiered on June 3, 1997. It ranks 63rd in the list of the 100 best films in the history of Ukrainian cinema. The film is dedicated to the memory of Sergei Apollinarievich Gerasimov.
A man goes to see his former schoolmate working at a boiler house and persuades him to burn in the furnace the corpse of his communal flat neighbor whom he has just murdered after a quarrel. An orphaned girl gets a job in the archives of the maternity home to find out the identity of her mother who abandoned her years earlier. She finds her, befriends her and takes the first opportunity to throw her into the sea. An old intellectual tries to explain to the neighbor's five-year-old daughter "all the abomination of her lumpen existence". The girl feeling hurt for her mother decides to poison the old man with arsenic.
***SPOILER ALERT***
K: Hey Freddy! Another day - another movie by Kira Muratova! Today we have "Three Stories", a pure film de auter. The film was not liked by many; it was not accepted. It is strange, surrealistic, scary, and thought-provoking. It left me with an after-taste and I like it!
This film is indicative of the post-soviet cinema of the 90's. There's a special atmosphere between the streets and the characters, emphasized by the scenery and the situations taking place on the screen. There are no definitions of cities, no street names, but there is an entourage corresponding to the time. I was a little girl at that time, but I still remember the spirit of the 90's.
F: This is a crazy dream-like comedy crime movie! I had a hard time following the story sometimes because the characters just spoke too fast. I wasn't able to pay full attention to some details and I quickly forgot what had just happened before because of all the weirdness. Luckily Krasnaya explained some stuff to dum-dum me when I felt lost. There are some really funny bits in this weird comedy and I will leave my 2 favorite scenes below our ratings. They are as funny as they are scary. They have a certain uncanny feeling that you only get from strange and bizarre dreams.
Have you come out of the closet, my dear reader?
K: The cast also emphasizes that 90's era feeling. Glamorous Litvinova, sharp Okhlobystin, nervous Makovetsky and sedated Tabakov look organically at this tragic farce. All the actors did an amazing job, everyone is extremely talented and they managed to capture my attention fully. Renata Litvinova is absolutely charming. For me, she is an actress "from another planet", and that phrase that her character, Offa, says "I would give zero to this planet" is definitely from her own mind.
F: I have to tell you a secret. This is the first movie that I've fallen asleep 💤 in since our comeback here at Cine It. There's a lot of relaxing imagery and long shots that I just couldn't handle. When the scene with the cat and the dead chicken was on, I just closed my eyes (you can watch a shortened clip below). I watched the 3rd story the day after. It was evil and funny, but dragging on a bit. I enjoyed the second story and like it more now that I fully understand what was going on with some of the characters. Opha (Renata Litvinova) is a mesmerizing beauty who creeps the hell out of me. The perfect cast choice to make you fall in love and wake up in a cold sweat. For those of you who've seen the movie, just imagine that tall blonde girl following you in that red dress. Страшнo 😨. The first story relies heavily on dialogue and your understanding of what communal living was. There's a homosexual that wants to bum the main character in the funniest of ways and a wonderful cadaver in a surreal scene that will bring a smile to old school gore fans.
How can you stay awake with such hypnotizing scenes?
K: I was shocked by the third short story 'The Girl and Death'. I couldn't imagine that little Lily was going to kill the poor old man. The film gives strong emotions and some kind of horror on an instinctive level. Which one do you like most, Freddy? For me, this film will remain on the list of films from the 90's that you need to see in order to understand the mood of that cinema in Russia. I recommend watching it with someone who is interested in feeling and knowing more about that post-USSR time.
F: Answering your question, I think my favorite was the third story, even though today I'm still thinking and REWATCHING(x10) some fantastic scenes from "Opha". Overall, I enjoyed it more than the previous movie we'd watched by Kira Muratova, it's easy when the subject is my favorite: "death". Still, I feel that the movie is a little unpolished. I like the weird comedy aspect and I hope we get more of this in the next movie. I would also have shortened some of the transition scenes so that the audience wouldn't risk falling asleep. Maybe that's the intention of the movie, so that you will mix it with your own dreams. See you tomorrow with "The Tuner"!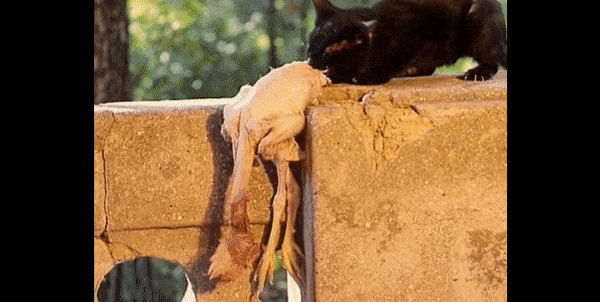 The moment I had to rest my eyes for 5 seconds 😪
"I don't understand when people tell me that they don't want to live after this movie. Try to look at cinema as an opium, joy, delight. The darkest thing, if done well, leaves an impression of joy. This is creativity, this does not mean that I do not love life, but I love death, another thing is that death interests me."
- Kira Muratova talking about the movie "Three Stories".
FUNNY AND BIZARRE SINGING SCENE
OLD LADY CRIES MAMA SCENE