Bunny Drop, also known as Usagi Drop, is a 2011 Japanese drama film based on the manga of the same name by Yumi Unita. The film is directed by Sabu, and the screenplay was done by both Sabu and scriptwriter Tamio Hayashi. Bunny Drop stars actor Kenichi Matsuyama and Child actress Mana Ashida who plays Rin. Bunny Drop made its international debut at the 14th Shanghai International Film Festival, where it was warmly received. It was subsequently released in Japanese cinemas on 20 August 2011.
Daikichi (Matsuyama) a 27 year-old working man returns home to attend his grandfather's funeral. There, he meets his grandfather illegitimate daughter Rin (Ashida) a 6 year-old little girl who is rejected by the whole conservative family. Even though Daichi has no experience with kids; he decides to embark on this adventure of parenthood.
F: (Turns on the sensitive piano music) Here we have the second movie of the week directed by SABU. This time his usual fluffiness was through the roof with this story about a single youngman who starts taking care of his 6-year-old grand-aunt. Grandpa was a naughty boy and had an illegitimate child with a mysterious woman. No one in the family wanted to take care of Rin (Mana Ashida), so Daikichi (Kenichi Matsuyama) stepped in. The story ain't anything more than this. This is it. I believe that this movie was made primarily for the manga/anime fans and that they will have a whole other mood when watching Bunny Drop.
K: Hello Freddy, I must say right away that I am also not familiar with either manga or anime and I watched Bunny Drop as an independent work. SABU made a kind, funny and sometimes sad story about a girl, Rin, and her 30-year-old nephew Daikichi. After watching, my heart was warm, and a smile remained on my face.
I would give up on the first day...
K: The cast is perfectly matched, everyone fits nicely into the picture with cute faces, including the orphan bunny herself. Rin Kaga is the cutest thing! You get into the main characters from the first minute and live for almost two hours with them, rejoicing and empathizing. As a mother of a wonderful daughter, I constantly projected some moments on us. When, for example, Daikichi said that there is nothing better in the world than feeling the palm of a small person in your palm, I immediately got goosebumps from how it's a really nice feeling indeed! And I asked myself how I would answer that serious question about death? The only weird moment was Rin and Koki's trip to the cemetery. It was very random, and as a result, turned into a strange coincidence.
F: How the hell did they plan that trip to the cemetery? This is a huge plot hole and I take away 20 points from my rating just for that. At the same time, this was the key moment of the movie where SABU got to tease us and use one of his trademarks. Not knowing anything about the story and having watched 2 of his previous movies, I was expecting the worst when I saw someone riding a bike while looking for the lost children. I became really tense... but SABU is not that predictable, it seems.
I got scared of that long-haired freak.
F: The most sound message from Bunny Drop is that of a state of selflessness, this is made clear like crystal in the kissing scene. Obviously, this will be more touching for someone who is a parent or who, for any reason, takes care of a child. I could handle all the sweetness coming from our main characters, but the sugar coming from the surrounding characters was too much. Warehouse guys, the family, friends, yuck! I just wanted to go out for a walk with everyone acting so nice all the time.
There was a phrase that stuck with me from this movie that I believe was not properly translated to English. That was when Daikichi said something like "being a parent turns you into a coward". I can relate to that. I didn't turn into a coward, but I surely became more afraid of death.
K: I recommend this movie to all parents. After the film, you desperately wish that every child had their own loved one and that orphanages did not exist.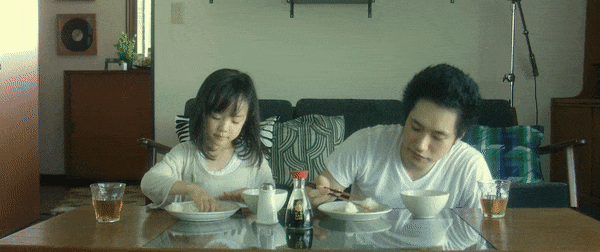 A very sweet and well made close-up.
F: The movie was on the verge of being a boring experience, but somehow I was invested in the narrative and wanted to see where we were going to end. Like I said in the beginning. It's just a simple story about a guy raising a child who's not his. Nothing extraordinary happened. I wouldn't watch it again, except to see if I missed something about the cemetery scene. I don't recommend this movie to men. They're insensitive bastards like me that might have a hard time on this one. Women go ahead, I'm sure most will enjoy themselves. I hope this comes off as inoffensive sexism...
P.S: I've just learned that the manga doesn't exit. You don't need to look for it. 🤮

BEDWETTING SCENE
KISSING SCENE
GRANDPA TALK SCENE
Our blog is update everyday at 21:00 (WEST)