It's Only the End of the World is a 2016 drama film written, edited and directed by Xavier Dolan. The film is based on the play of the same name by Jean-Luc Lagarce and stars Gaspard Ulliel, Nathalie Baye, Marion Cotillard, Léa Seydoux, and Vincent Cassel. The film made its world premiere at the 2016 Cannes Film Festival, where it competed for the Palme d'Or and received mixed reactions from critics. The film won the Cannes Grand Prix - making Dolan the second Canadian director to receive this award, and the Ecumenical Jury Prize at Cannes. It also won six Canadian Screen Awards, including Best Motion Picture, and three César Awards, including Best Director.
Louis (Gaspard Ulliel), a terminally ill writer, returns home after a long absence to tell his family that he is dying.
F: We start our Xavier Dolan week with the drama It's Only the End of the World. Let me start by saying that this movie made me feel very uncomfortable because through most of it we are staring at people's heads. These close shots of people's skulls make my eyes hurt. I don't know why. In this movie we follow Louis, a successful playwright who hasn't visited his family for 12 years. This bastard doesn't even call his mother or sister for what it seems. He just sends postcards from time to time. I can relate to that actually. 😂 I don't call my mother ever, but I get to message my sister almost everyday... mostly to reply to her annoying teenager non-sense. Anyway, the big shot son is back to tell everyone that he is dying and it gets interesting because his older brother is not very happy with his arrival.
K: Hello, hello! As you already understood, we are watching Xavier Dolan films because of me. Freddy snorted, and I was glad, because I think this young director is talented and worth our attention.
It's Only the End of the World (2016) is based on a play by French playwright Jean-Luc Lagarce. The film is very intimate, we see the story of five people. Only five people to show how strong the gulf between them can be. I felt total doom, because in this family there is too much pain and despair, little wisdom, love and patience. Harmony is impossible there.
Maria i, Maria a, Maria ah ah...
F: Like I predicted, there's obnoxious music involved that makes it possible for me to completely dislike the movie for that reason alone... Dragostea Din Tei by Ozone... this song translates into the total opposite of the whole personality I've been constructing for myself since birth. I pray every day to the Universe that, in the case of reincarnation being a real thing, to never let me be born into a person that enjoys this type of music. I actually enjoyed the images of memories being shown during that song, but Ozone is always -20 in my score if not used for comedic purposes. My moment of grimace to the sound of Exotica was not easy (refer to my previous post). Friendly Moby radio songs during the credits also didn't help. I know that I'm a nitpick bitch because most of the music is by Gabriel Yared, and his compositions are what they are. 😛
K: The choice of music didn't impress me either. And I also didn't really like this constant return to the cuckoo clock, as well as the final scene with the bird. I felt sorry for the little creature.
This is a beautiful shot.
F: This movie's success is totally dependent on the actors' performance, since almost all the action takes place inside mama's house. They all did a great job, but Vincent Cassel stands out. I think the writing of his character is a little bit exaggerated though. Dude is way too pissed off and acts like an angry mental patient all the time. A bit of moderation in the beginning to balance his tone would probably have been a good idea. The part where his character explodes after understanding what his brother has to say marks a brilliant emotional performance from Cassel. That scene grabbed my attention fully and I'm curious to know from where he pulled all of those powerful emotions. The car scene with his brother was also great and very clever. Overall, I was able to enjoy the movie and I liked how it ended. If you aren't one of those Buzz Lightyear Christians (check the news), probably you can watch it.
K: Yes, Freddy. The cast of the film is excellent. On the screen, for me, is a family and I believe in it. Gaspard Ulliel says almost nothing throughout the film. His facial expressions and eyes spoke for him, with which he conveyed pain, fear and confusion (really sad that he left this world so early). And by the way, I wanted to mention those close shots. André Turpin's camera almost constantly focuses on faces, eyes, small details, gestures, and this is what helps to immerse yourself in the atmosphere and become familiar with each character. My favorite scene is Louis' memory of how he and his family went out into the countryside. The colors are so vibrant. Louis recalls moments in fragments - these are blades of grass that tickle his legs while running, his mother's flowered dress fluttering in the wind. That's exactly what a childhood memory is, and Dolan did a masterful job at showing it.
After watching this film, I remembered a quote from Anna Karenina's book - all happy families are happy in the same way, every unhappy family is unhappy in its own way. And this is the pure truth. Dolan turned out to make a psychological drama that definitely leaves an aftertaste and may encourage many to call their mother.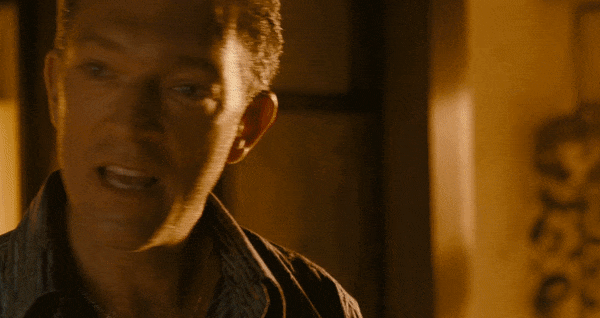 Brilliant Vincent Cassel (watch full scene below)
DRAGOSTEA DIN TEI
END SCENE
Our blog is update everyday at 21:00 (WEST)