Jam is a 2018 Japanese comedy drama movie written and directed by SABU. A follow-up 8 episode TV show was produced in 2021 called Jam: The Drama.
Hiroshi, Takeru and Tetsuo all live in the same city. Hiroshi is an unpopular idol singer and he feels a void in his life. He is placed under confinement by his fan Masako. Takeru believes that a girl returns to consciousness. Tetsuo decides to take revenge on a yakuza who sent him to prison.
F: Hey there! We're almost finishing our SABU week and I want to tell you that I wouldn't mind doing a SABU marathon after watching Jam. This movie has a similar story structure to SABU's Dangan Runner and you will find the usual director's imagetic. Someone is always running when close to the climax, and the plot is resolved this time with a car rushing to the sounds of beeping music (I love that arrangement. I will leave the scene below). So, like yesterday's movie, we follow 3 characters that are bound together by destiny and we go back and forth to find out what happened to them and how they connect with each other. This time the story was really interesting and the coincidences were a bit more plausible.
K: Hey Freddy! I agree, let's make an exception and do a marathon. SABU deserves it 100%! Jam turned out to be a very charming work, with an exciting plot, where comical vocal numbers are replaced by moments of kindness or savory showdowns. SABU loves fusion. As you already understand, it is always a mix of different genres, as our life is actually. For me, this film is about different types of love: manic love, a grandson's love for his grandmother, and, of course, about love as the last breath of life. A grandmother lives in a stroller, it seems, solely thanks to romantic inertia. I liked the film as much as the critics of the Moscow International Film Festival in 2019. Jam received the award for best film.
This was a very funny scene with awesome editing work.
F: So far, this movie has the best cast yet. The development of the 3 characters was satisfactory and I felt sympathy for the 3 of them. The comedy also worked on the spot in this movie. The actors were very funny when they had to be. Unlike SABU's previous movie we've seen, I didn't find a single scene being overplayed. I found this his most polished movie so far and I can only observe one flaw. That's the last scene when the Number 1 Fan (Mariko Tsutsui) smashes against Hiroshi (Shô Aoyagi). I UNDERSTAND! It wouldn't be a SABU movie without the sentimentalism, but damn, she wouldn't have ever landed like that with that crash!
K: I liked Mariko Tsutsui (Masako) the most. She perfectly played the manic fan, conveying the whole gamut of feelings from total happiness to tragic disappointment. I felt so sad for her when Hiroshi excluded the song she was waiting to hear so much.
I absolutely love Mariko Tsutui eyes!
F: One thing I got clear with Jam is that we're never going to understand a Japanese movie at 100% unless we learn Japanese or have a Japanese friend to explain some cultural and linguistic stuff. A LOT is lost in translation. To finish, I would like to mention the fighting scenes with Tetsuo (Nobuyuki Suzuki). Dude, the choreography was so gooooooooood! It was funny, it was stylish, brutal, and soooo BAD ASS! I loved it and every action fan will have a little tear of joy in the corner of his eye when watching it.
This is that SABU movie that I would recommend to any type of moviegoer. It's a mature and creative piece of work, easy to follow and very entertaining.
K: I agree with you, Freddie. The language firstly and the symbolism secondly. In this film, it seems to me, SABU describes life as a car without brakes, as a series of coincidences. You never know if death will bring a new turn or a head-on meeting with what you most desire. I definitely recommend this film. I am sure that almost everyone will feel a wide range of emotions. Master SABU skillfully worked on this cocktail.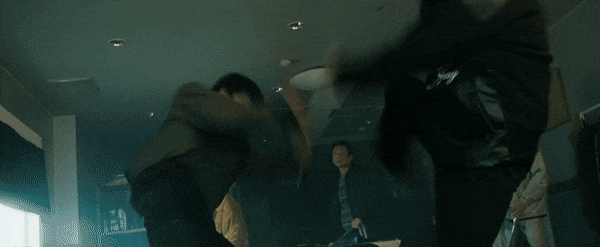 That throw! 😂 Watch the full fighting scene below.
TETSUO FIRST FIGHTING SCENE
INTRODUCTION TO HIROSHI
BEEPING END SCENE
Our blog is update everyday at 21:00 (WEST)