My Blood & Bones is a 2021 movie directed by SABU starring Taishi Nakagawa and Anna Ishii. The movie is based on the novel "Kudakechiru Tokoro o Misete Ageru" by Yuyuko Takemiya (published May 28, 2016). Due to the Covid-19 outbreak, the film's original release date of May 8, 2020 was postponed.
Hamada is seemingly a regular high school, junior student. He is indeed ordinary except he has a passion for righteousness and justice. His trait comes to the fore when he notices that his junior school-mate Hari is being bullied. He does not abide by it and decides to step in and help her.
F: Well, well, well, here we go, starting our SABU week with his latest film. (Not gonna repeat that hip title because it's too long). I have to say that this is the most mixed-feeling movie I can remember watching. It surely made me feel something. In this drama we follow a college senior student that helps protect an excessively bullied girl and tries to make her more confident of herself, by transmitting her his life philosophy. "A hero doesn't need a reason to act like a hero" - This is what our main character Kiyozumi Hamada (Taishi Nakagawa) says at one point to the abused girl Hari Kuramato (Anna Ishii). I like this hero very much. He doesn't wear a cape and he doesn't use force. He uses compassion and patience. Sometimes his sweetness and good nature seemed a little too much and became a little corny, but near the end, when all of that was smashed in the face, I understood how much I cared for this character.
K: Thanks to the light hand of Freddie, we have a Japanese week again and we dedicate it to SABU directorial work. "My Blood & Bones in a Flowing Galaxy" is the latest work based on the novel of the same name by Yuyuko Takemiya. It turned out very piercing, touching, sometimes scary and sad. After "Postman Blues" and this movie, I think SABU likes to touch on things like fate and coincidence and how they affect our lives. I am a fatalist by heart and, in this regard, I'm on the same wavelength as SABU. The film is a cool cocktail of different genres; there is a psychological drama, a romance and a thriller.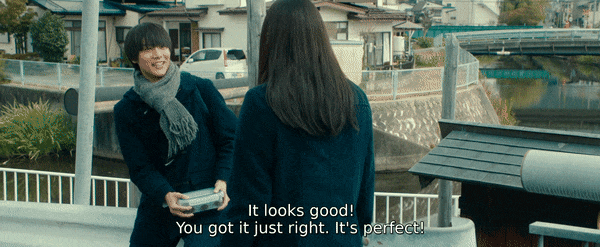 Always sit perpendicular to your butt crack.
F: One thing that bothers me about this movie is the weather. Yes, the weather. I don't buy it that the characters are feeling cold because it doesn't look like winter. It looks like autumn. Maybe the cold runs differently in Japan... That's a minor detail but it had an impact on my enjoyment of the movie. On the other hand, I was really enjoying the beautiful shots of that region in Japan. I wish I could visit it today.
K: The film runs for 2 hours. At first, it was slow with long dialogues. Then the plot picks up speed during the signature SABU cycling scene (my favorite part of the movie, by the way) and then spins you into a whirlwind of events and emotions. The performance of the young actors is good. There was a chemical reaction between Anna Ishii and Taishi Nakagawa. You feel for their characters.
The cinematography of this film is great, backed up by great piano music. Everything is tangible and alive.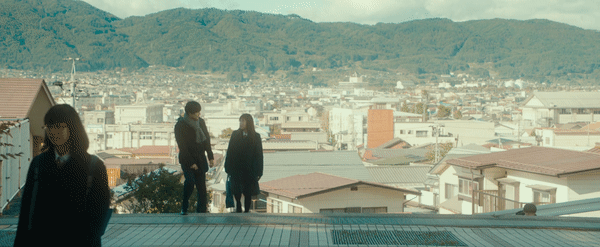 Gorgeous view.
F: That bicycle scene has to be my least favorite scene. I was making faces just like I had bitten a lemon. It was so romantically cringey. Yuck! The conversation between the two was agonizing. But, soon we get a totally opposite scene that kind of changes the whole perspective I had of the movie. It was damn predictable what was coming, but it was still very effective. The movie ends almost like Postman Blues, brutal and then mighty sentimental. It works really well for bipolar people.😉 I strongly recommend this movie.
K: I don't want to give you spoilers about this movie. Even if you find the beginning a bit long, don't give up too quickly, as Kiyozumi says. Fight obstacles, be persistent and you will see that everything will work out. I definitely recommend it also.
Spolier Alert: This is the part where they are kidnapped by aliens.
SABU INTERVIEW
BICYCLE RIDE SCENE
GASOLINE SCENE
Our blog is update everyday at 21:00 (WEST)