Everything Everywhere All at Once is a 2022 American absurdist comedy-drama film written and directed by Daniel Kwan and Daniel Scheinert (collectively known as "Daniels"), who produced it with the Russo brothers. It stars Michelle Yeoh. Stephanie Hsu, Ke Huy Quan, Jenny Slate, Harry Shum Jr., James Hong, and Jamie Lee Curtis appear in supporting roles. The film was described by The New York Times as a "swirl of genre anarchy" and features elements of black comedy, science fiction, fantasy, martial arts film, and animation.
An aging Chinese immigrant is swept up in an insane adventure, where she alone can save the world by exploring other universes connecting with the lives she could have led.
K: Yesterday we watched Everything Everywhere All at Once by Dan Kwan and Daniel Scheinert, who are both writers and directors of this film. The film came out phenomenal! It is easy to watch (despite the fact that it is about depression and misunderstanding), full of interesting dialogues and TONS of humor. Everything that happens on the screen seems absurd, with a lot of oddities and amazing madness. But this is a philosophical film about how we want to do everything, always and all at once. About how we are torn apart in our small inner multiverse and in conflict with ourselves and sometimes with our loved ones. The theme of "eyes" is carved into a separate line: to see, look at each other, look through the cracks between the palms, etc.
F: I think this is the most wildly paced and fun movie I've ever seen! I can only equate the pacing and absurdity of this film with "Mother Schmuckers", a highly recommended Belgian comedy. There were many unthinkable situations in this movie that left me rolling on the couch laughing. I bet the filmmakers, collectively known as Daniels, while writing this story took the first things that popped into their heads and found a way to introduce those ideas logically into a film where all common logic can easily get suspended thanks to the main premise - The Multiverse. Everything is allowed in this multiverse, as long as you have a bluetooth headset with the most cutting-edge software created in the Alpha universe, of course.
A film that in its first few minutes seems simply to follow the drama of a family of Chinese origin who owns a laundry business and has some problems with the IRS, suddenly turns into an epic sci-fi film where the most unsuccessful person ever has the mission to save all possible and imaginable universes using inter-dimensional jumps where you can, for example, acquire highly advanced Kung Fu skills that would make Jackie Chan's legs tremble.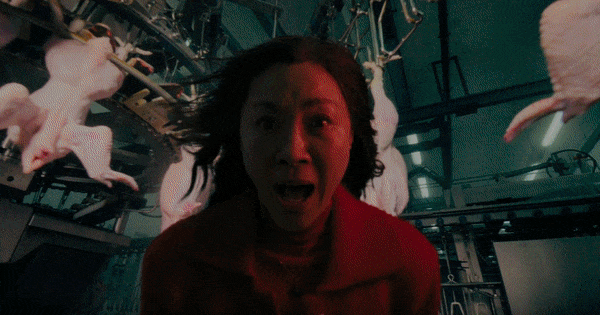 Let's watch this a little bit slower now 😉
K: The visual and auditory aspects of the film are just excellent. Bright saturated colors, grotesque images and Debussy's music add up to something incredible at the level of sensations. I felt like everything that was happening on the screen rotated my brain like a Rubik's cube. I really liked Jobu Tupaki's fight with the guards in the corridor. What a bright, fast and effective change of images! The second amazing scene in the film is the scene with the rocks. Daniels managed to ridicule the entire modern world in one shot, ridiculing all the hopes, feelings and contradictions of people.
F: Debussy you say? I love Debussy!
I can only understand the process of making this film as a true nightmare! How to coordinate all the scenes? How to make sense of what to record first? The person who managed the wardrobe isn't in a mental hospital right now? And the room where the film was edited? Did they catch it on fire after everything was finished? I am really impressed with what they were able to achieve with all the work done here. The scene you mention of the first fight between the most terrible being in the universe, Jobu Tupaki, was one of those moments that if I had been drinking water, the television would have been probably damaged now. In this fight, the cop turned Carmen Miranda was truly an out-of-this-world unexpected comedy moment. Other bits that made my ribs hurt from laughing were: the moment we were introduced to the "sausage hands" universe and the discovery of Raccacoonie. The absurdity is of the highest possible level.
You got to love Jamie Lee Curtis!
F: Not wanting to sound like a prude, but the scenes I enjoyed the least were the scenes with sexual elements. Although the idea of someone trying to shove an award up their ass to be able to make an inter-dimensional leap is funny, the fight that happens at this point seemed more childish than absurd.
K: The actors were given the daunting task of playing several different interpretations of their characters at once, as well as repeatedly, abruptly and convincingly switching between them. Michelle Yeoh played at least five different versions of the main character in this film, and in each of them she looks very harmonious. The directorial duet of the two Daniels produced a specific and non-standard, yet deeply touching film. This film needs to be re-watched to see the unseen and hear the unheard in the mix of all the fast-paced footage.
You are right about the deeply touching part that the movie is also able to deliver. The message about kindness conveyed through the character of the husband played by Ke Huy Quan got me real good. I'm glad that I already had tears on my face from laughter to cover up my sentimentalism.
Anyway, this is a movie that is really worth seeing if you have a good sense of humor. The trip is long, it takes 140 minutes, but could go on for another hour if it was up to me. Not a second was left for me to feel bored. 100% fun. Run to the cinema and watch it now. It's really worthwhile to see it on the big screen if you don't suffer from epilepsy!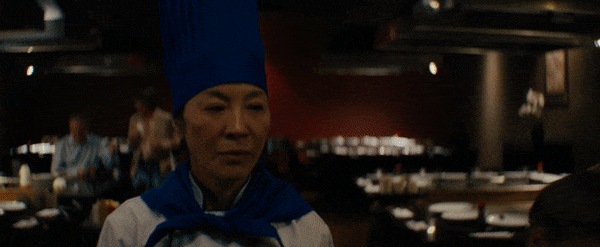 Raccacoonie! 😂
JOBU TUPAKI FIGHT
BEHIND THE SCENES
MAKING OF
Our blog is not currently being updated every day.