The Pest is a 1997 American black comedy film directed by Paul Miller inspired by the classic 1924 Richard Connell short story "The Most Dangerous Game". It stars comedian John Leguizamo. The Pest was a box office bomb. The film came in at #12 in its opening weekend at the box office, with a gross of $1.8 million from 1,205 theaters. The film grossed a total of $3.6 million against an estimated budget of $8 million.
Miami scam artist Pest Vargas is on the run from the Scottish mob and a German headhunter, the mob after 50,000 dollars, the German guy after his head. Pest dons many disguises in an attempt to evade their clutches.
F: And here we have the first film starring John Leguizamo. I must admit that I should have listened to the film critics for the first time and completely discarded the plebs' comments left on IMDb that encouraged me to see this movie. I found dozens of reviews on top that say that this movie is super funny and that they don't understand why the bad reviews. Well then! These people must have been high as a kite. The Pest is a horrible, offensive movie with one of the worst protagonists of all time. Everyone talking greatly about this amalgam of bad taste should be ashamed of themselves. John Leguizamo was nominated for the worst actor award for his performance in this film at the Stinkers Bad Movie Awards, and the strangest thing is... that he didn't win! Tom Arnold took home the award for the movie McHale's Navy. A movie that now, I know that I will never dare to see.
K: Hello friends! Today I'm not here for long, since the first film on our list with the participation of John Leguizamo, I was only able to endure it for about 20 minutes. When Freddie turned on this film, I asked him several times if he was sure that we really should watch this masterpiece. I think the cover says it all.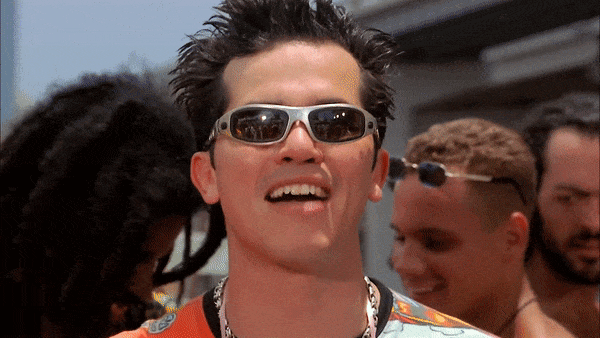 This is seriously unfunny.
F: The first thing I thought when looking at the character of Pestario Rivera Garcia Picante Salsa Vargas was that John Leguizamo would be doing a rip-off of the famous character of Jim Carrey, Ace Ventura. The difference is that Jim Carrey is a god of physical humor and John is not. Someone should have put the brakes on Leguizamo the moment he rolled his eyes and pretended to be blind. Leguizamo shouldn't have any real friends at this point in his life. It's impossible not to feel awkward when Leguizamo tries this joke several times throughout the film. The film is disconnected and the story, even if it wasn't to be taken seriously, could have had a little more effort on its writing were it not the case that all the people on this set had self-assessment problems and thought they were comedic geniuses. It seems to me that cocaine-inflated egos are responsible for this disaster.
All the supporting actors are absolutely horrible (except the African-America
n dad XD), the stereotypical jokes are so bad they become offensive, and the frenetic energy of Pest à la Ace Ventura is simply childish and in poor taste.
Okay, I partly liked the stupidity of the Chinese restaurant delivery boy... and when Pest chooses his best friend to stay inside the car and be taken by the Scottish mob, I giggled. But, that's it!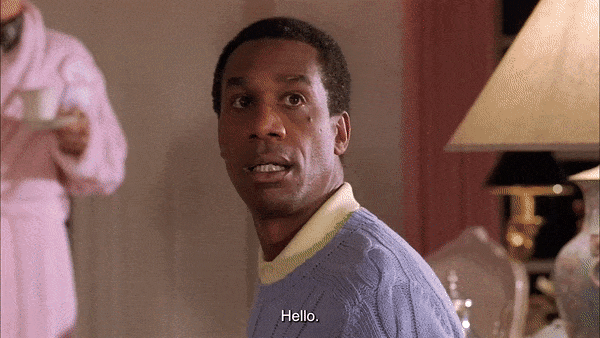 Now that face, is funny! To me at least 😂
K: From the very first minutes, The Pest made me feel uncomfortable with its literally frantic rhythm and constant tossing of Leguizamo impersonations and bad jokes that seem designed either for completely stoned adults, or for school-age children. This comedy made me sleepy and my brain was unable to listen and watch John Leguizamo's cheap and pathetic imitation of Ace Ventura.
F: I do you this favor and I beg you, don't waste time watching this movie. Do not believe the reviews left by users on IMDb like I did. This film needs to be forgotten and erased from our collective consciousness. It is a service that we as human beings must render for the common good and for the good memory of John as an actor. If this was one of your favorite movies from when you were a kid and now you feel nostalgic, I am deeply sorry and advise you a hypnotist to remove any positive thoughts you might have directed towards this movie.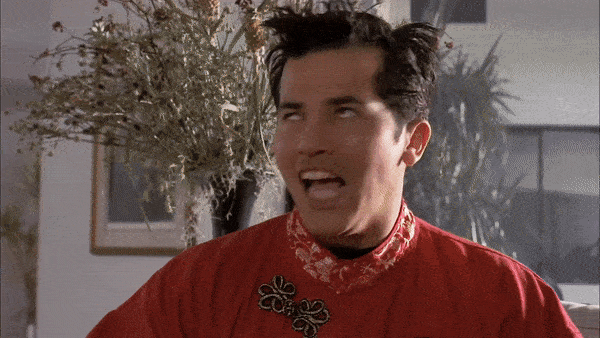 ...and he's blind again...
Krasnaya's Score:
no rating
PS: The clips below are kind of funny on their own.
CHINESE DELIVERY BOY
HUNTING THE PEST
SLEEPING DARTS
Our blog is updated daily at 21:00 (WEST)