Dangan Runner also known as Non-Stop is a 1996 Japanese comedy movie directed by SABU. It is SABU debut movie.
A salaryman, a drug addict and a yakuza go on a breathless three man chase through the streets of Tokyo, each for a different reason and fighting demons.
K: The 1996 Dangan Runner is SABU's debut entry. The film lasts only 82 minutes, but in places it seemed to me that it was somehow longer. The final scene seemed to stop. Probably the director intended it this way, so that the viewer could catch his breath along with the characters of the film and understand what all this chasing was for. The film is very masculine, it is about dominance, about the desire of every man to prove something to himself and others. SABU masterfully mixed elements of art house and the then popular yakuza theme, added quirky Japanese humor and 3 running losers - first one after another, and then just running and enjoying the process. It turned out to be an interesting and a bit confusing experience for me!
F: Hello, hello! We are on our fourth movie by SABU and I can say now that running and cycling are important elements in SABU movies. In every single movie we've seen so far, there are people running or pedaling. Hell, I think this line in Dangan Runner said by the Yakuza interpreted by Ren Osugi (a Cine It regular 😊 I love that guy) says it all: "You got to pay attention to how you run. One runs to achieve a particular goal. Not just people either. All living things do that. Run so you know how to live." This movie is really important if you want to understand SABU, in my opinion. At the surface level, this movie is just about 3 guys running. The first runner, Yasuda (Tomorowo Taguchi), is pursued by a heroin-addicted rock singer, Aizawa (Diamond Yukai), who wants revenge from the first because he stole from his shop and shot him in the arm. During the chase, a third runner joins in when Aizawa accidentally clashes with him, a Yakuza named Takeda, played by Shinichi Tsutsumi, who wants to stab Aizawa because he owes him money. Takeda was also having an emotionally difficult time before the clash.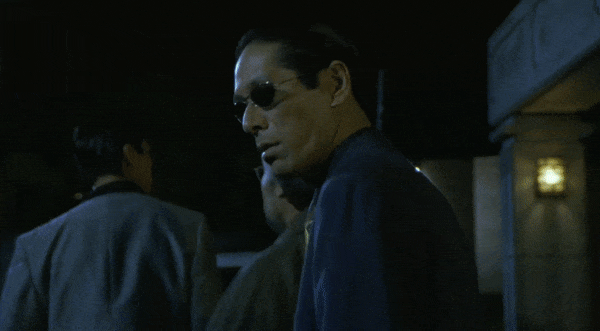 Here's SABU with a knife.
K: The rhythm and editing of the film is very cool. I liked the story with the flashbacks and the return to the running characters. Fast music, made by Daisuke Okamoto and Diamond Yukai, suits the pace of the movie to perfection. The cinematography is wonderful. I really enjoyed following the successive landscapes - from the modern city with its narrow streets to the industrial zone. Strawberry lovers will enjoy three imaginary scenes of making love to a woman - each of the characters has its own special erotic addictions. Well, I want to note the acting. For me, SABU chose a wonderful cast, where everyone is in their place, and even took part in the film.
F: I think the acting is a little bit exaggerated, just like in the movie "Postman Blues", but then again, the film is almost like a cartoon, so it's easy to overlook that. The imagery of the city is great, just like you said. The development of the characters and story through flashback sequences is not as cool as it might have been back in 1996. I also found the pace of the movie a little bit slow sometimes. Like you said, it felt way longer than 82 minutes. What I really enjoyed about this comedy is the situational aspect. What makes me LOL is when I think about explaining the plot details to someone. It's absurd and I love that!
My favorite scene from this movie is when the 3 runners are all running next to each other. What happened? Did they forget what they were running for? It's so stupid at first glance. This scene resembles my favorite part from "
Postman Blues
" where, instead of running, 3 characters are riding bikes together and act with similar mannerism. This is why I like SABU. He was set to do his OWN thing from the very start.
Perverts.
K: I'm not going to watch this movie anytime soon because it's too masculine. Fans of the movie Run Lola Run will love this Japanese story.
F: I watched Run Lola Run so long ago that I can only remember the red-haired girl running and that's it. Don't know how else it compares to Dangan Runner. Anyway, since I enjoy SABU's work, I think this movie was great to understand the symbolism he uses and make more sense of the little things that he wants to tell you. Not a polished movie but a must watch if, like us, you are digging into this crazy director's work. I would recommend (as you can already tell) watching "Postman Blues" after this one.
That WTF moment.
SHOPLIFTING SCENE
SINGING SCENE
BEER SCENE
Our blog is update everyday at 21:00 (WEST)